Tasmania with Sarah Glover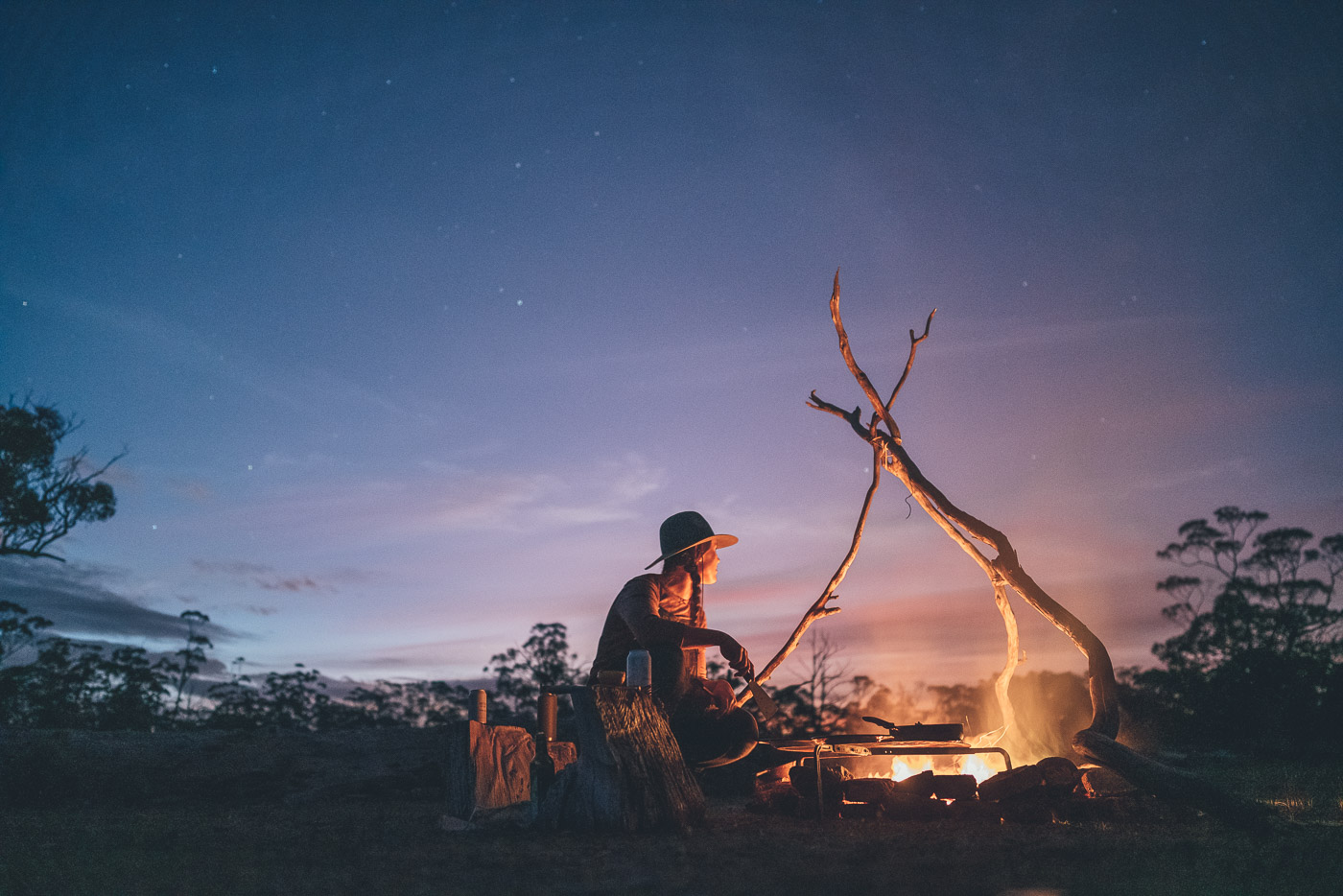 Digital Imaging Ambassador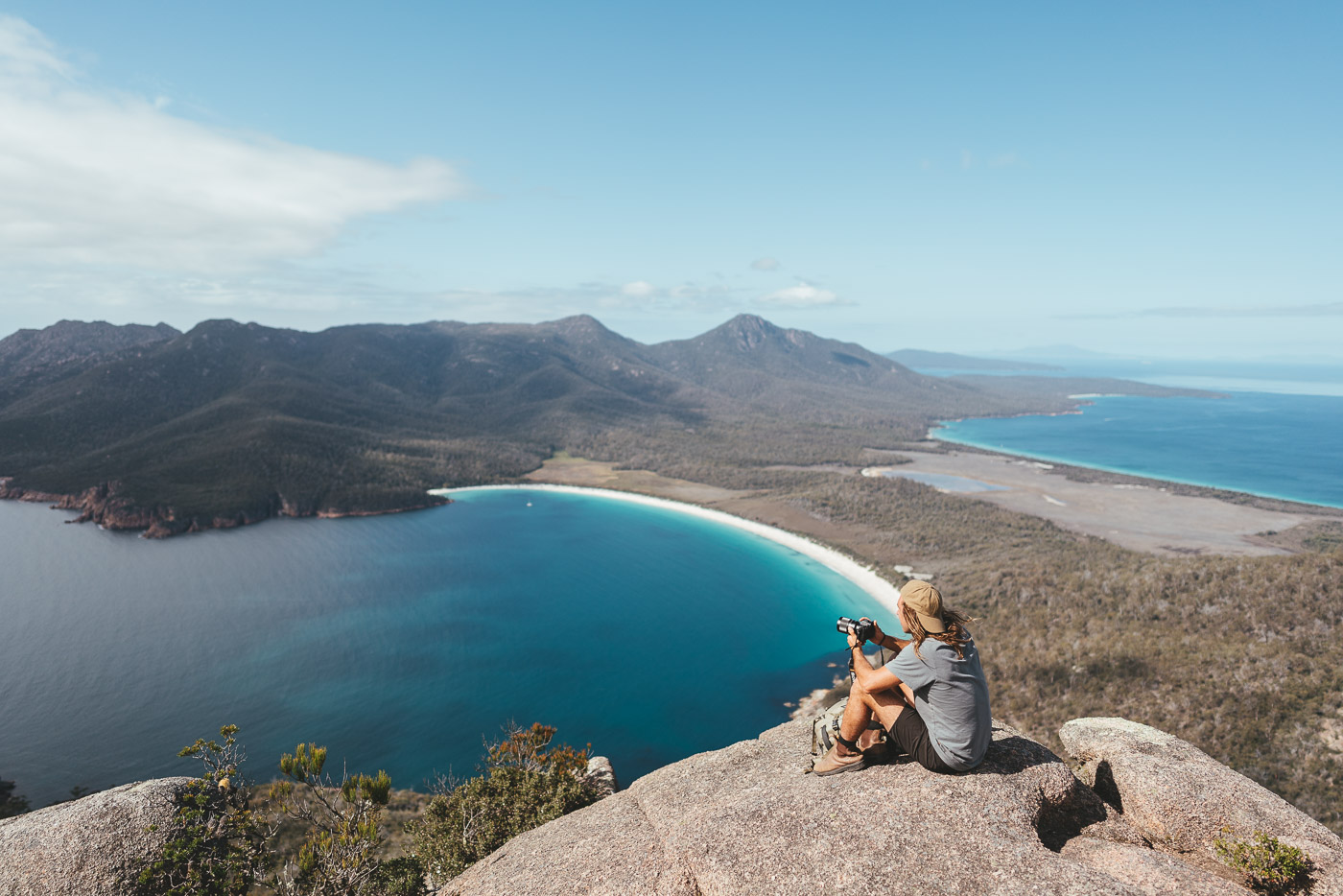 Recently I travelled to Tasmania to work with an amazing outdoor chef I've been inspired by, Sarah Glover. Tasmania has been a place I've wanted to go to for some time too, I've heard a lot about it so I was pretty excited to get over there. I was lucky enough to have Sarah accomodate me and show me around the area but it far exceeded my expectations.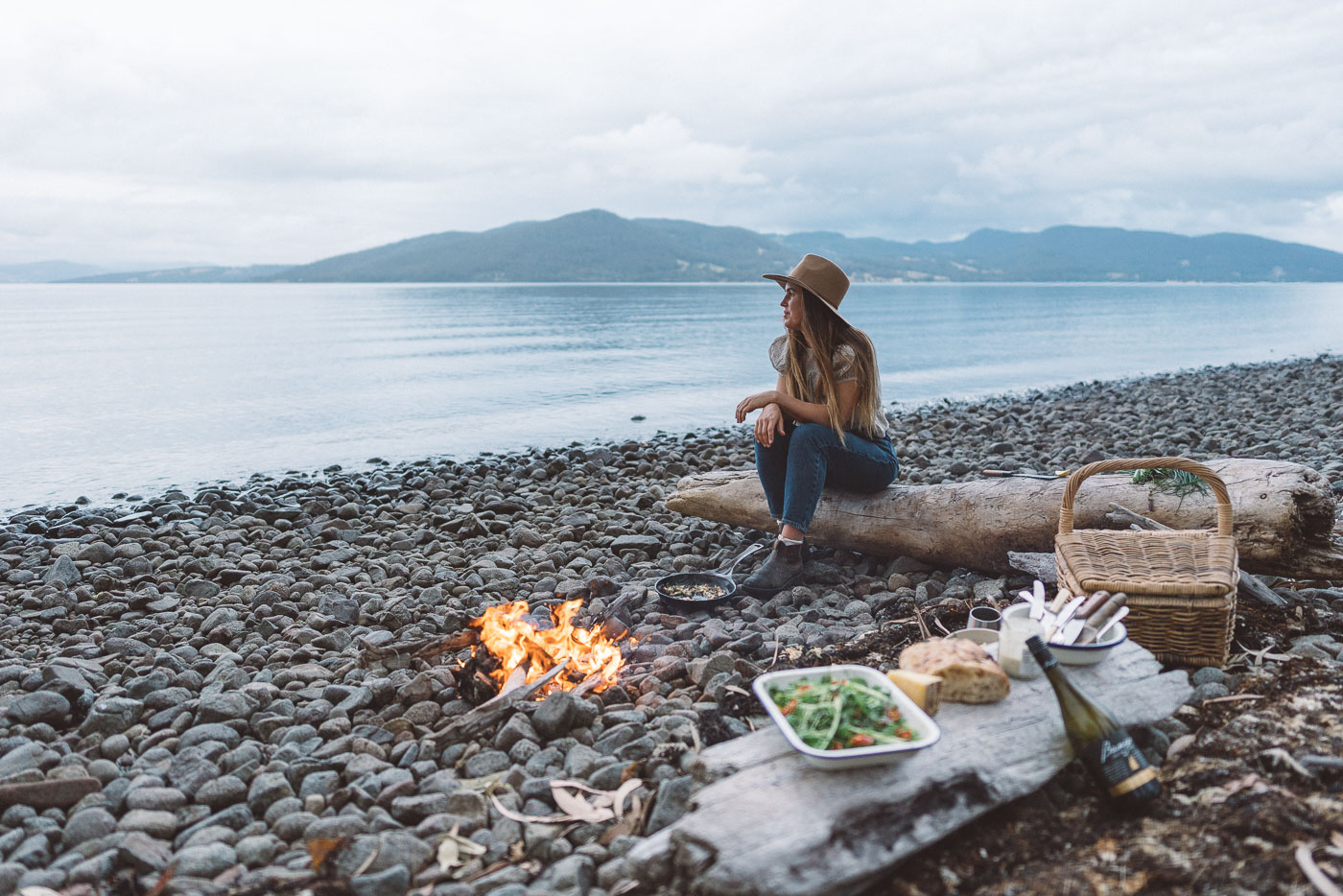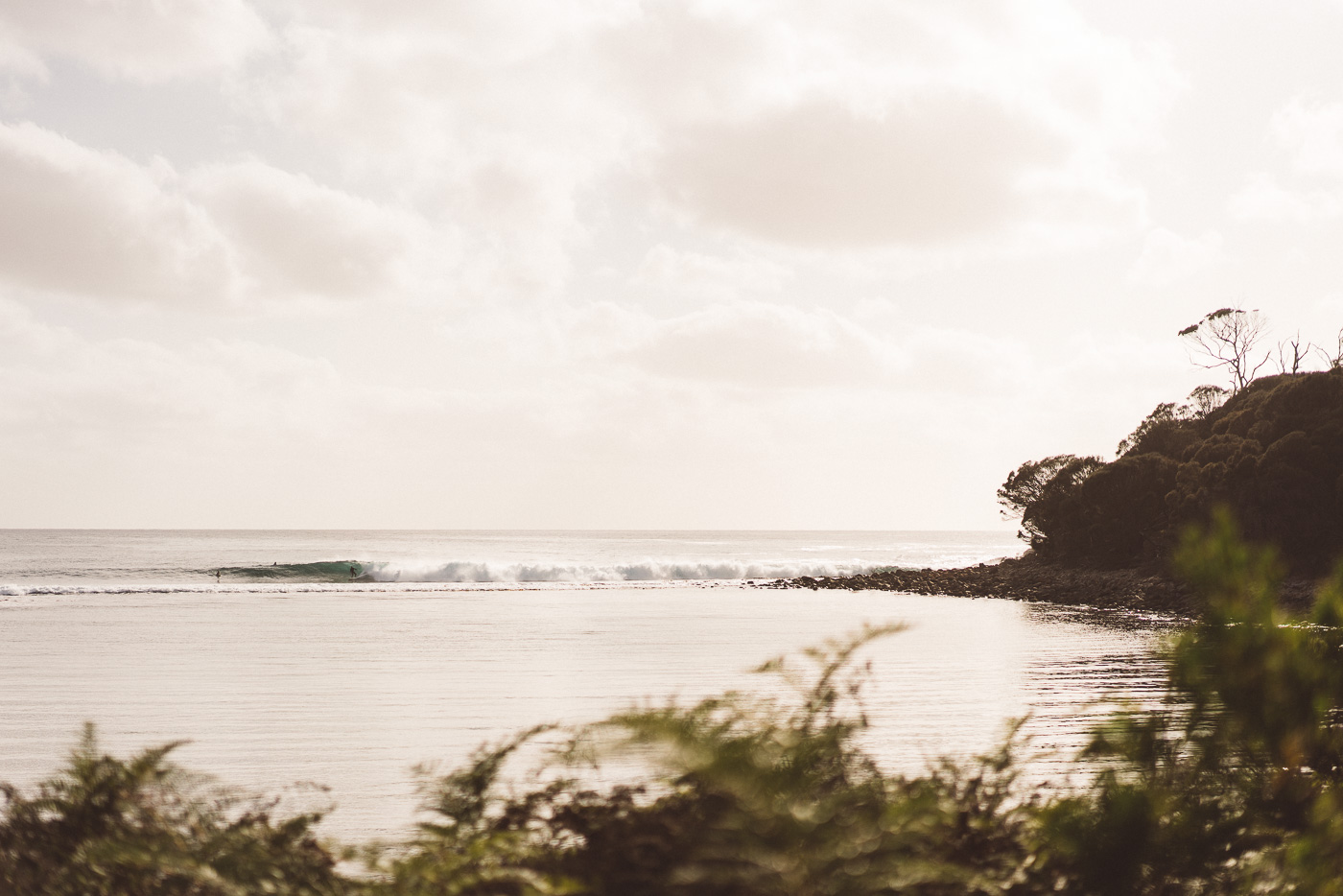 When I arrived at Hobart Airport, Sarah's brother, Nathan picked me up with the Jet ski behind the truck. I had no idea what was planned prior to arrival but just seeing that I got pretty excited. The first night we went camping out on this private headland with a surf spot. It was pretty bloody magical. Sarah cooked us dinner on the beachfront as we watched these perfect waves peeling off the point. I kind of focused on the food that Sarah was cooking, I didn't even capture the waves really which was gutting. I wasn't too sure if this setting combined with killer food was going to be the norm for this trip, turns out every night from then on it was. Here's a Recipe from the first night.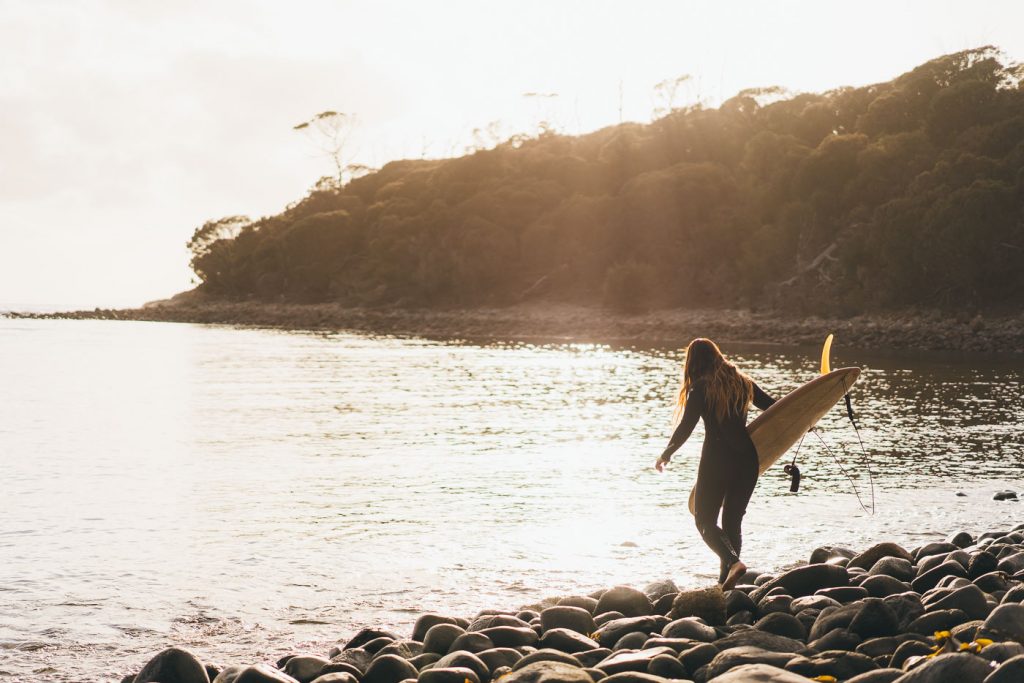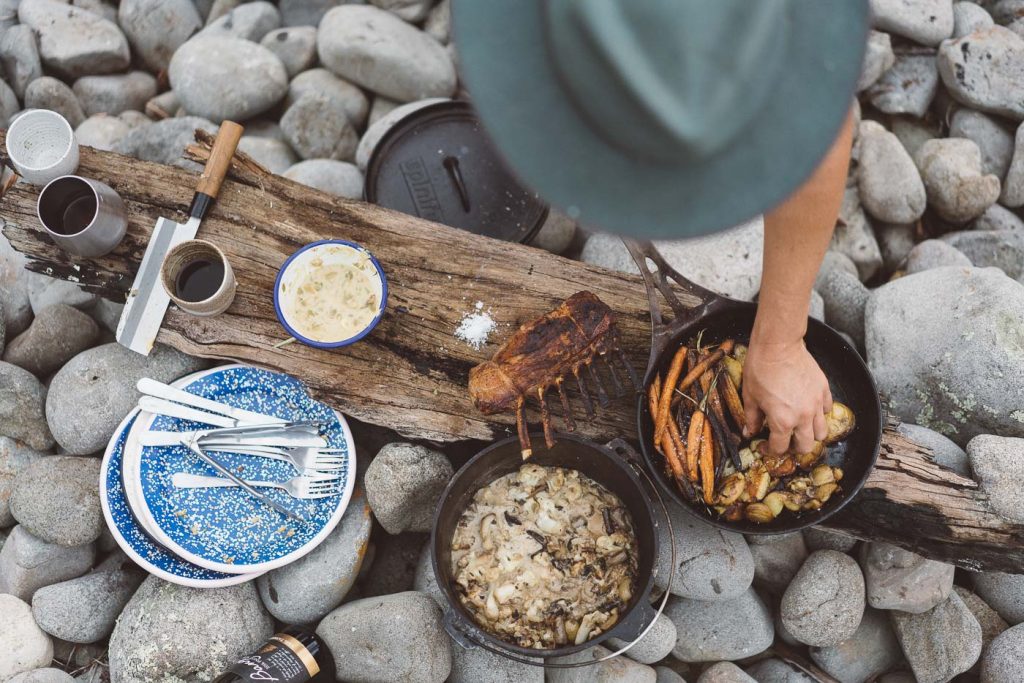 For me I had seen a lot about Satellite Island, this picturesque boat shed accomodation sitting right on the water. This is also happens to be a place that Sarah caters for guests. After our camping trip we took the ferry over to Bruny Island then over to Satellite. We spent maybe four days over on Bruny. It's kinda like the great barrier island in New Zealand. It's small, low key and heaps of space to yourself, amazing waves, we cooked on the beach, had a stunning Airbnb, and again cooked on the beach, also cooked on the beach again. That was expected with Sarah though, the outdoors, the campfires are her kitchen. It never got tireless as every meal I was excited to see what she cooked me.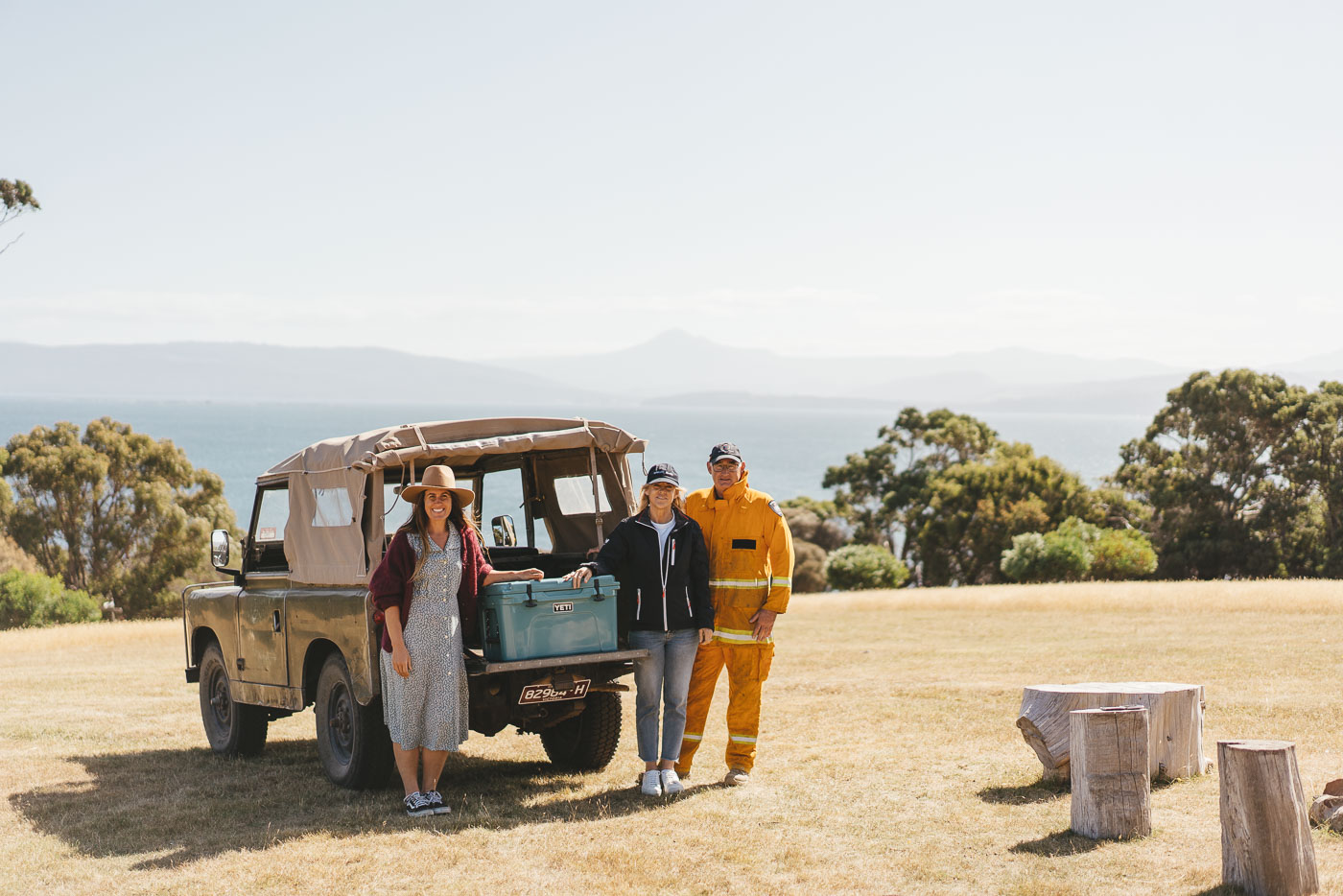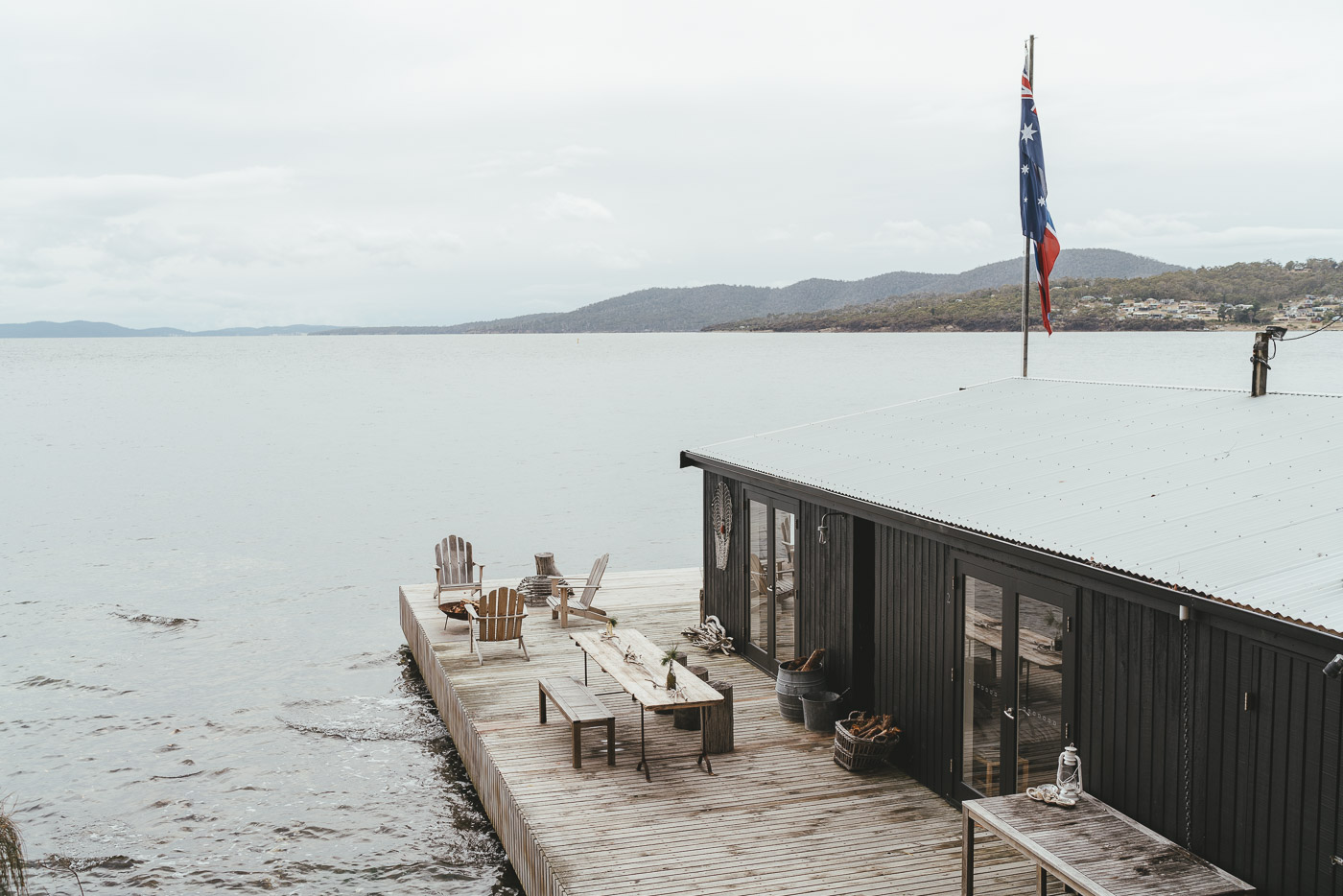 This summer just been, Australia has had some devastating fires that ravaged a lot of Victoria and New South Wales. It was horrendous for people but even worse for wildlife. Kangaroo Island was the worst hit. Satellite Island and Sarah Glover paired up to create a raffle draw to fundraise money for Kangaroo Island. I had seen a fair bit of the fundraiser through social media and the day that we went across also happened to be the day they drew out the lucky winner of the draw. My mind was blown when she told me the total that was raised was over $100,000.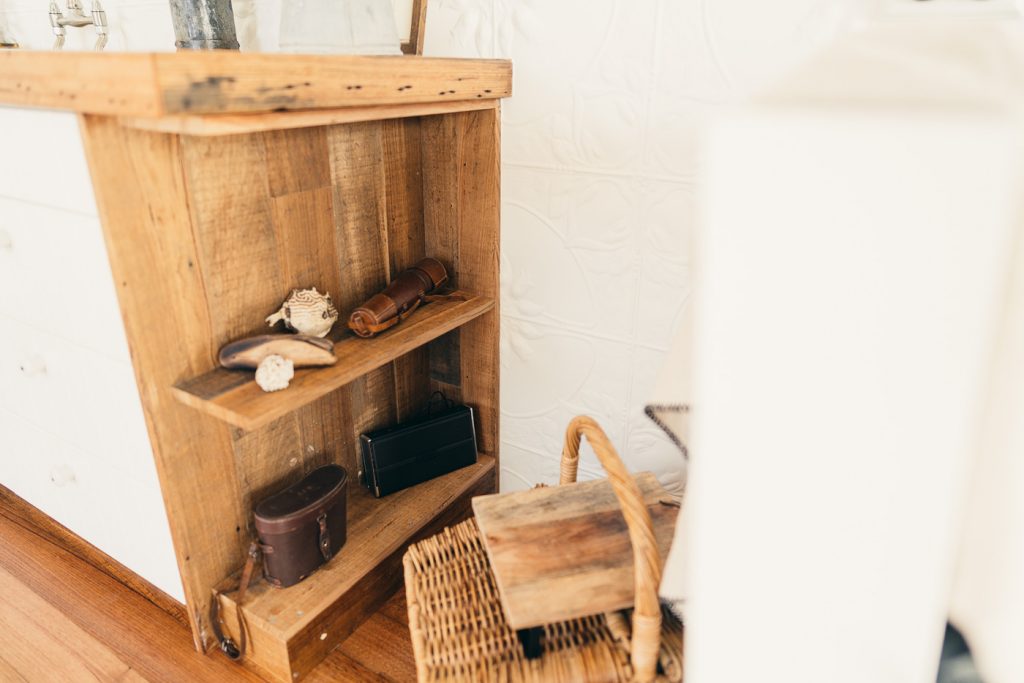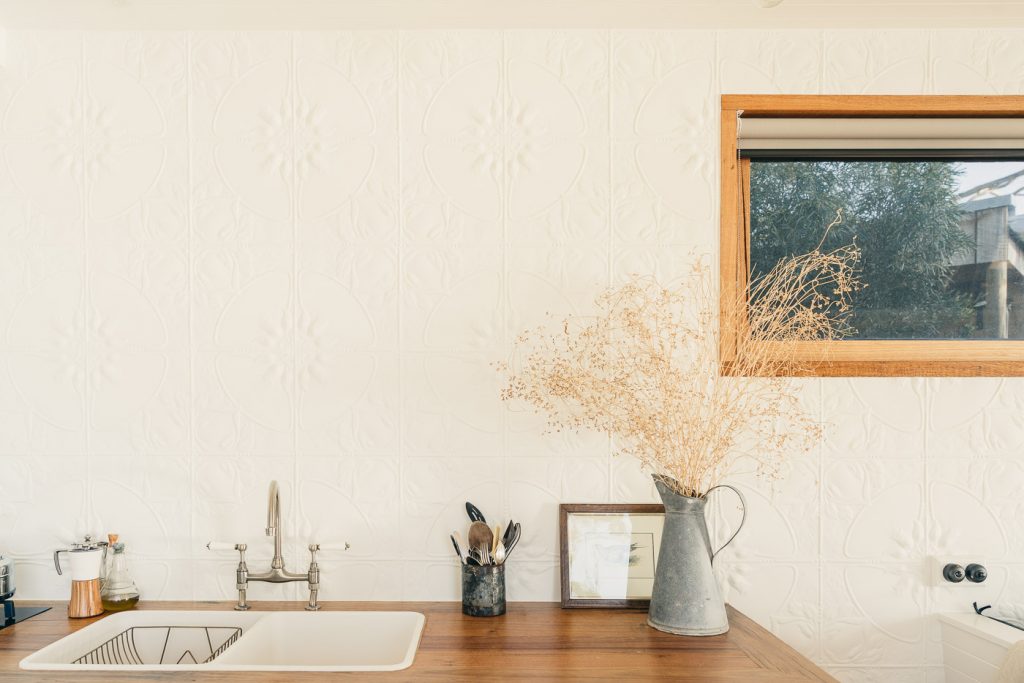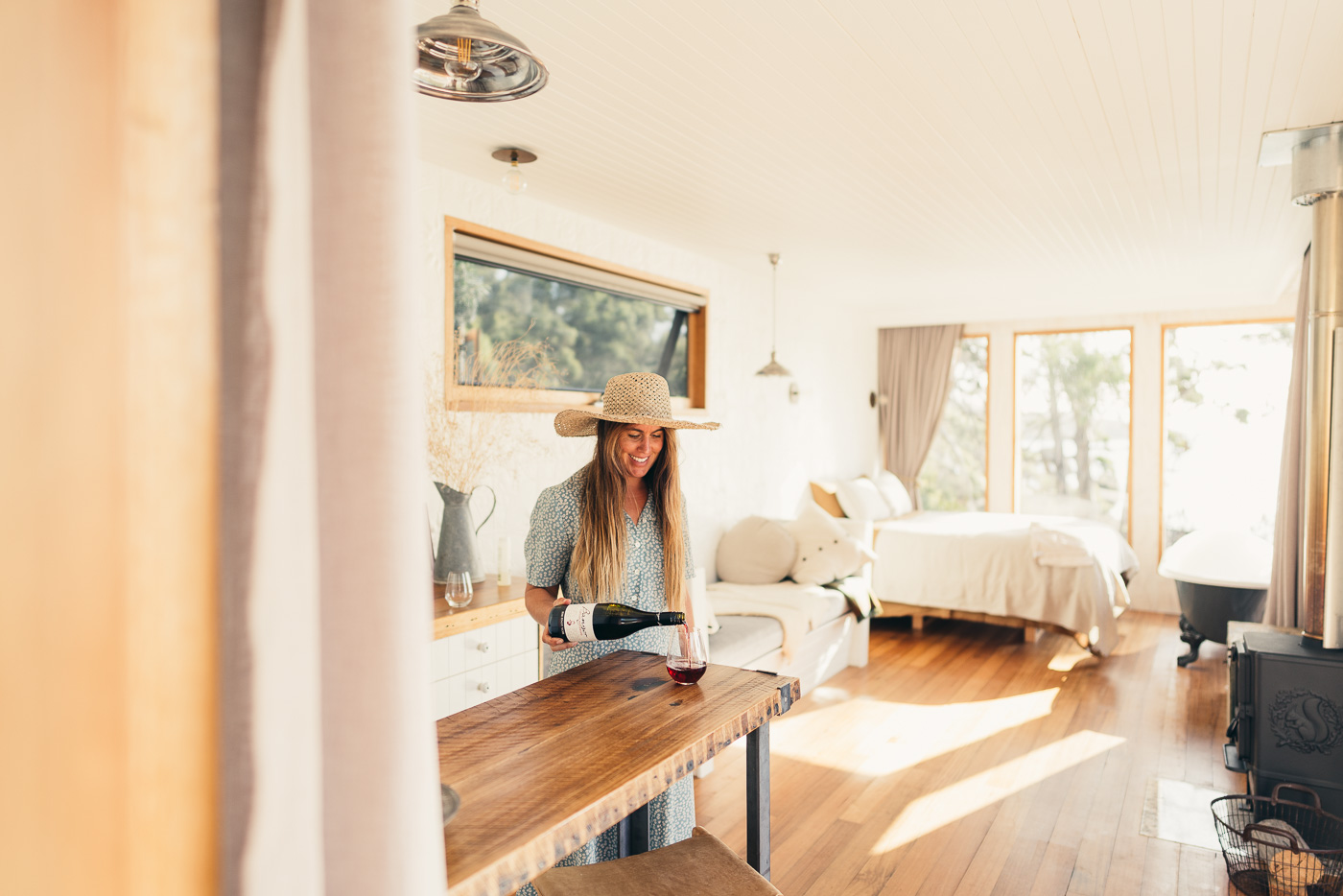 I have a huge passion for tiny homes. I couldn't get my head around how amazing the airB&B we stayed out was. I love seeing Australia's designs in homes as they have the warmer weather which give other aspects they can work on say separation between buildings for each room or up on pillars in a forest. The toilet and outdoor shower in this accomodation was completely separate from the main house with a walkway joining them. It was just basic, easy, and downright pleasing to the eye. Watch this video below for behind-the-scenes photographing in this Airbnb.
The owner of the accom was this quirky baker, they had a fridge on the side the road that sold the bread. In the morning we woke up to fresh bread in our mailbox which happened to also be the shape of the fridge. That was one thing about Bruny Island as well as Tasmania was the local abundance in stalls on the side of the road full of fruit, chutney, eggs, jams and variation of other items.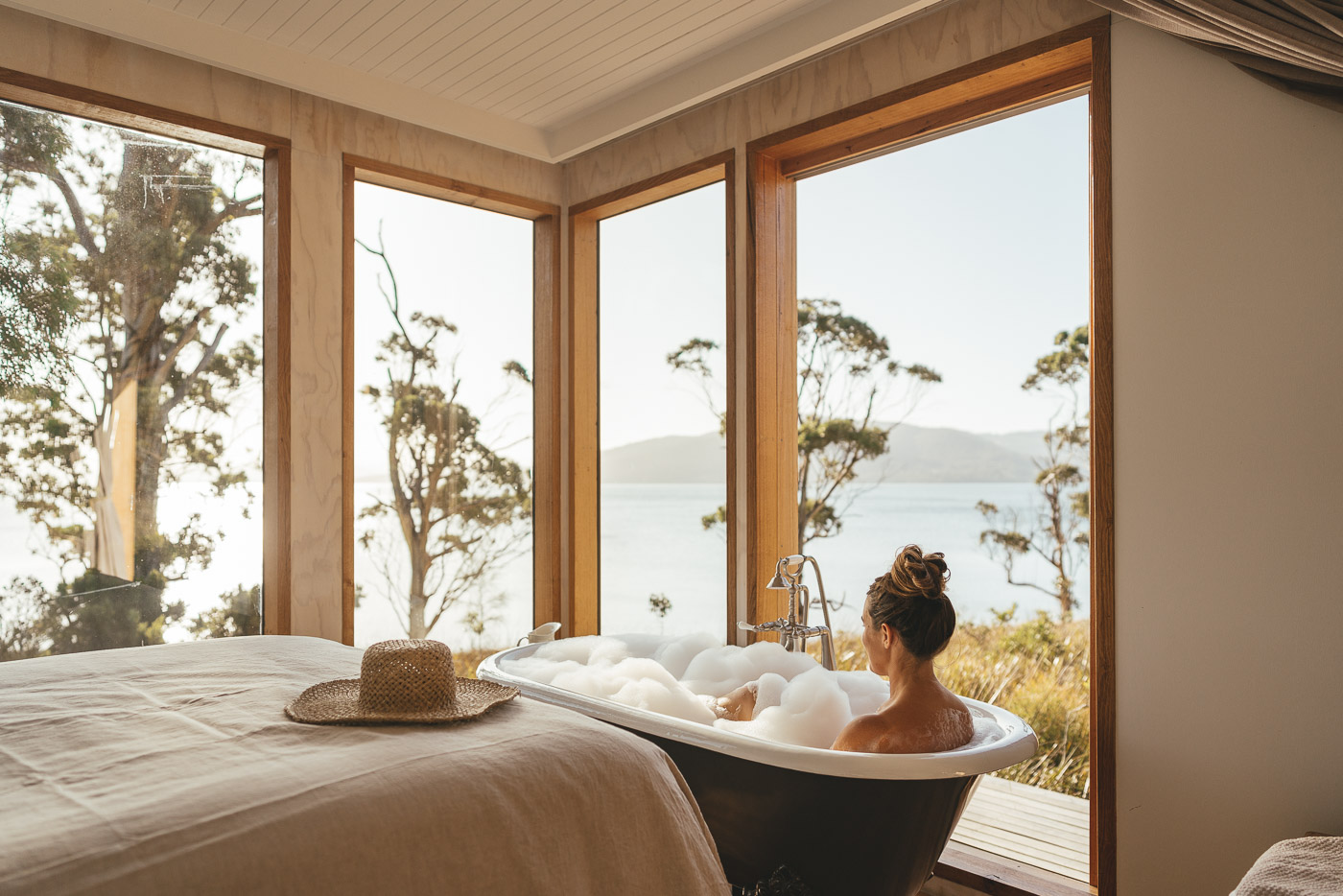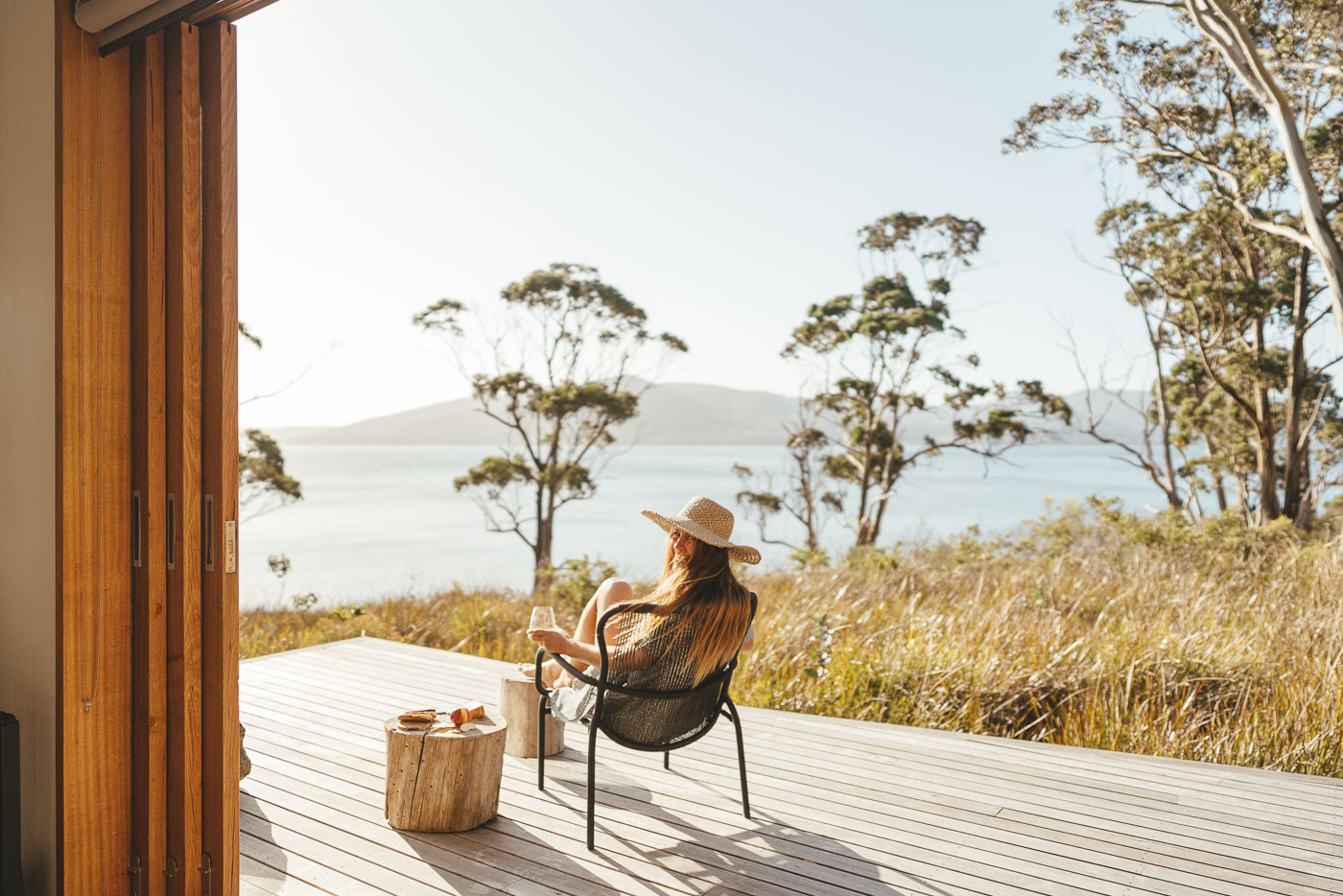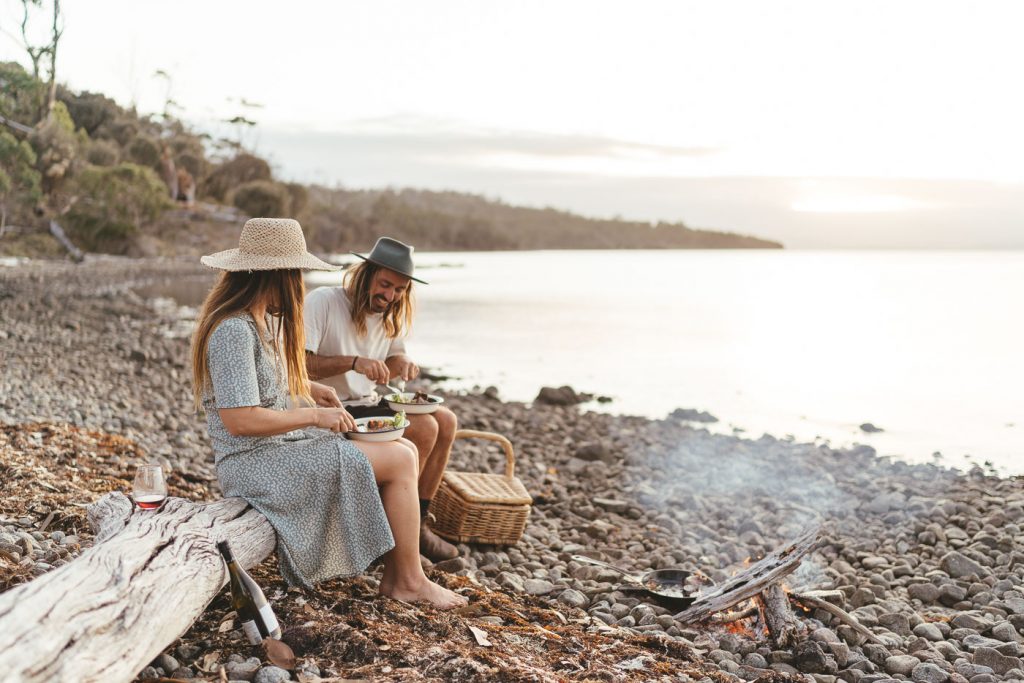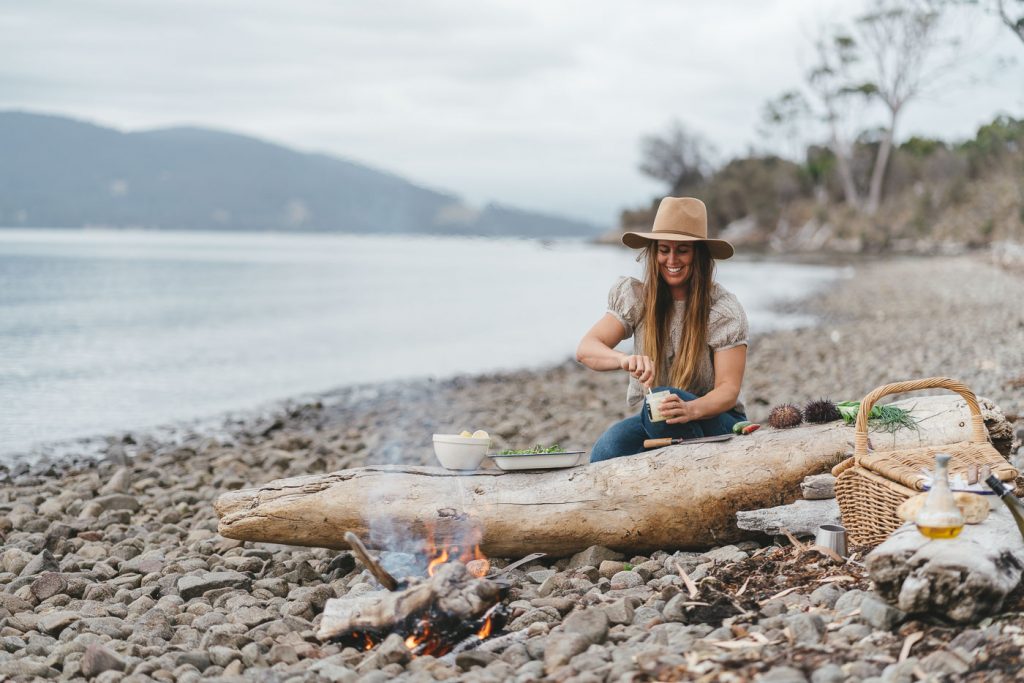 I don't know the name of this Bay that we were staying at but I just named it Baker's Bay for the sake that it was at the bakers accommodation. Each evening we would have a fire on the beach to cook dinner, I can't choose which was my favourite, the perfectly calm clear sky sunset or following night the moody sky that ended in us running back to the house in a downpour with hot pans in hand. It was an absolute laugh. And hands down with the most stunning part certainly was watching the view from the bath as you can see from the photos.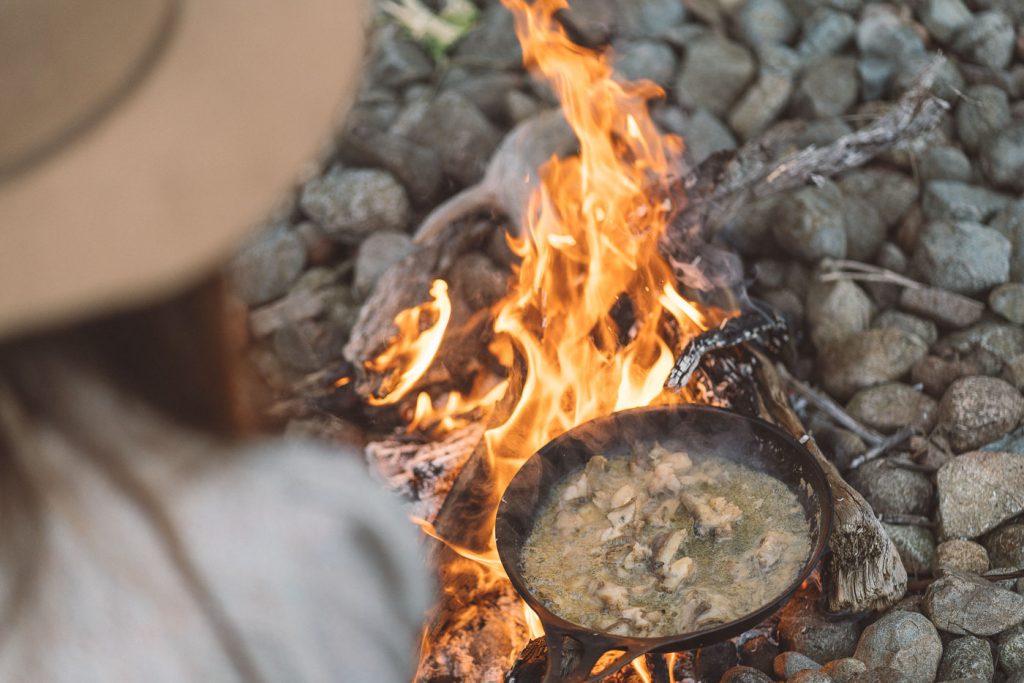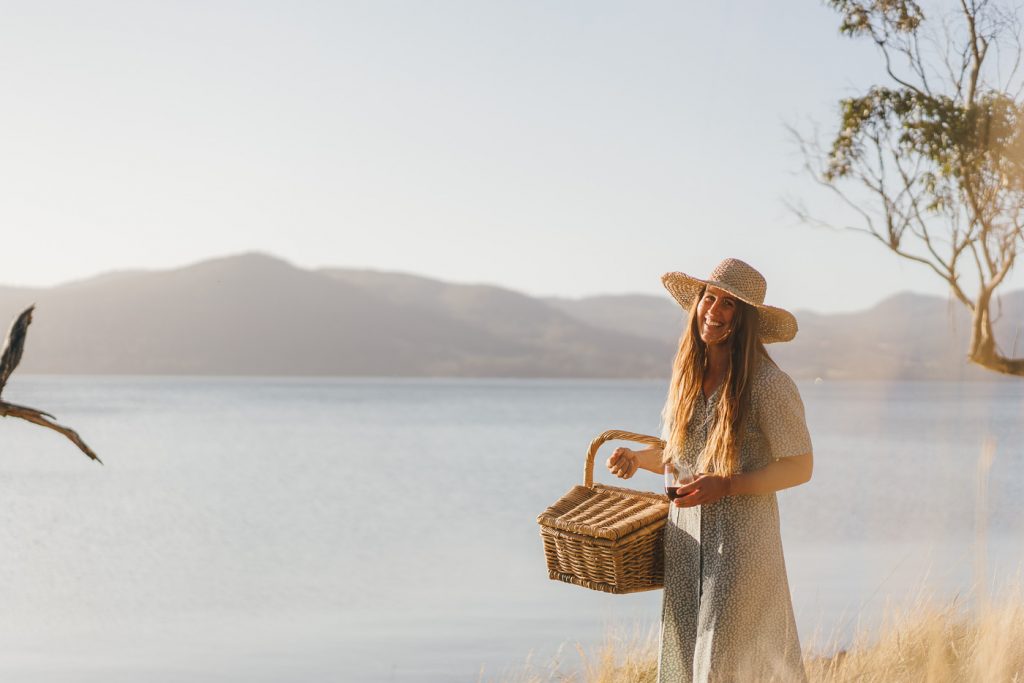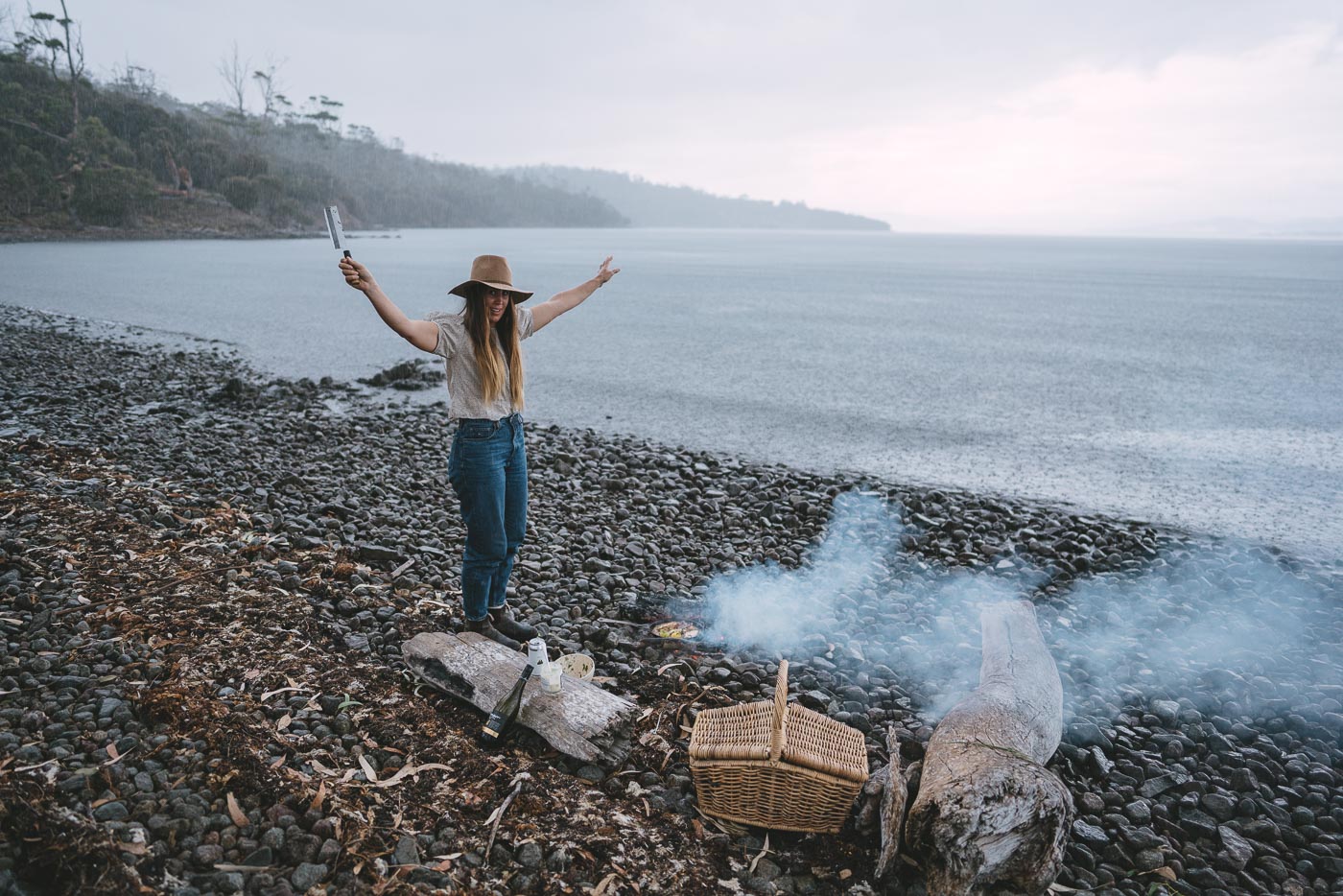 I'm always a morning person but that morning it was too easy to sleep in, except the big problem was there was swell on the other side of the island. We made a mad rush over to a surf spot. Without time for breakfast, I'm on the side the road munching on as many blackberries I can to fill my stomach with. While working with Sarah it didn't really feel like work, it was more playtime and adventure. It was figuring out, "Ooo there's waves over here… do we…". It was a bit of a silly question but really there's no planned agenda to what we were doing but just the need to have fun and capture the lifestyle of what Sarah's about. I can't complain about that because it was definitely fun and I get fed really yum food.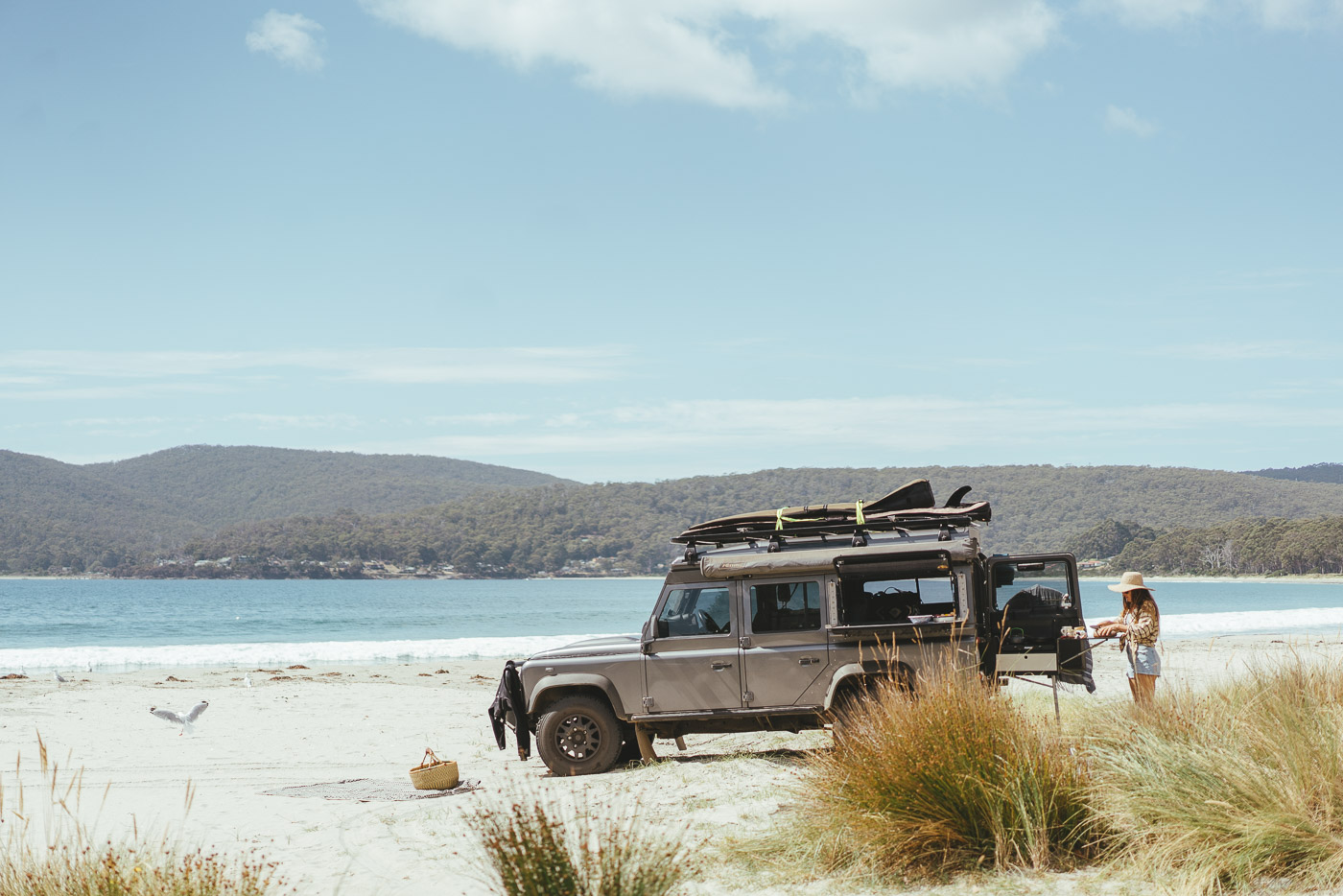 After Sarah made breakfast on the beach, we planned the next behind the scene video on the South side of Bruny Island. It was pretty special to be driving the Land Rover across the beach with raw bush right to the coastline of beautiful water. The goal was to forage in the ocean for lunch and capture some imagery of Sarah doing so. We hauled up some massive abalone. Here's the behind-the-scenes of the video below.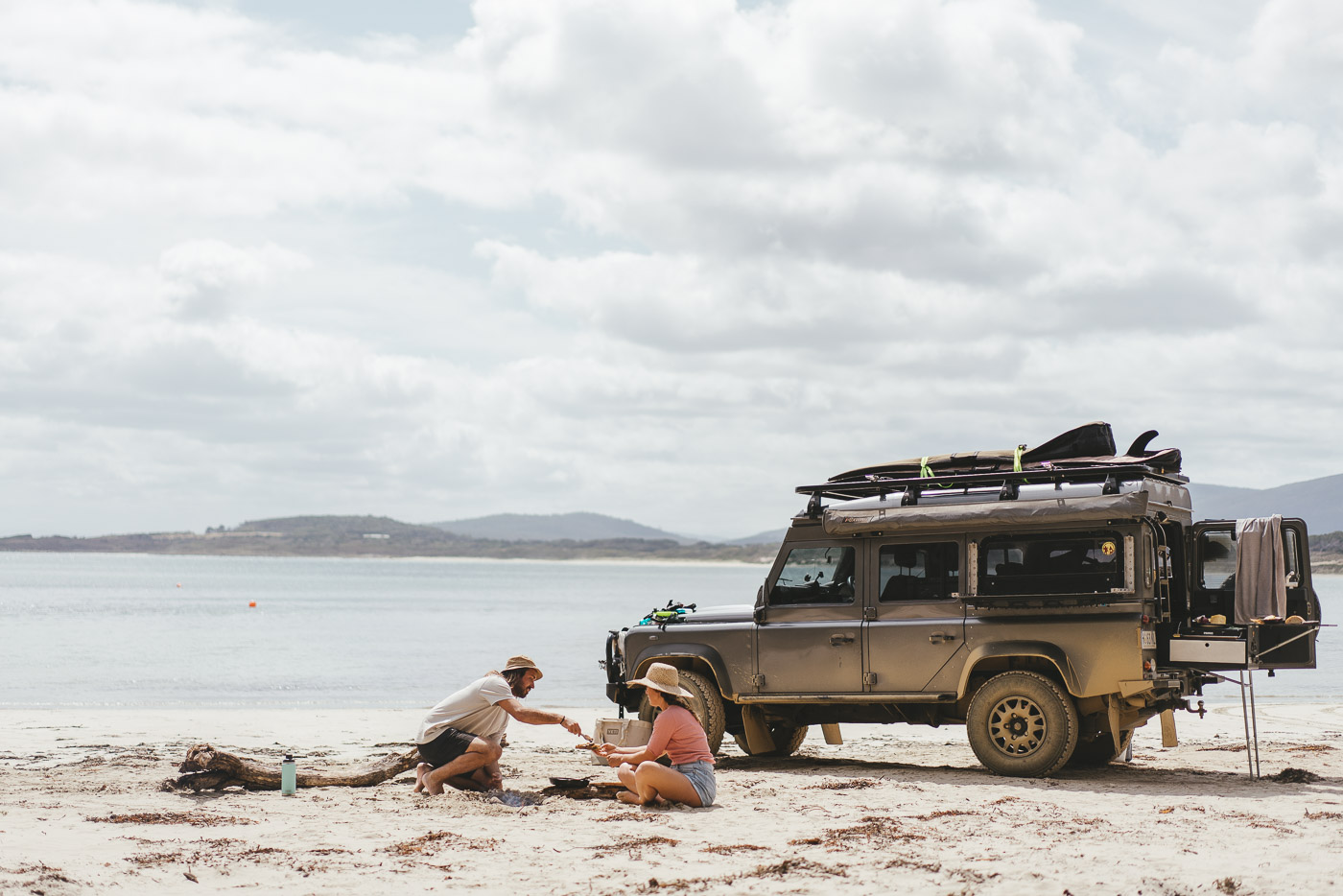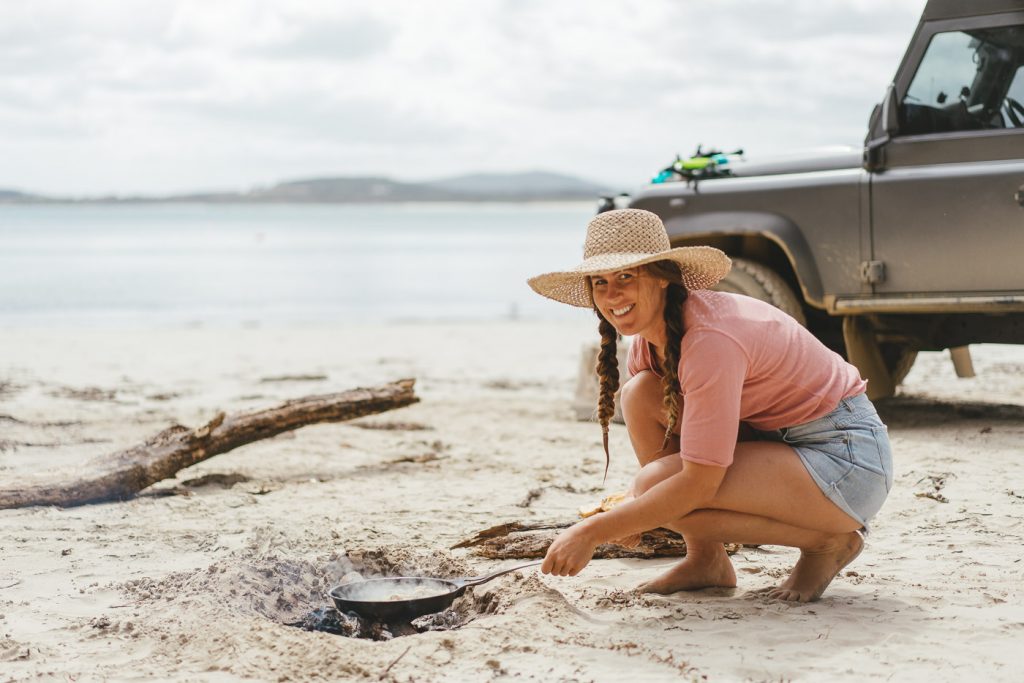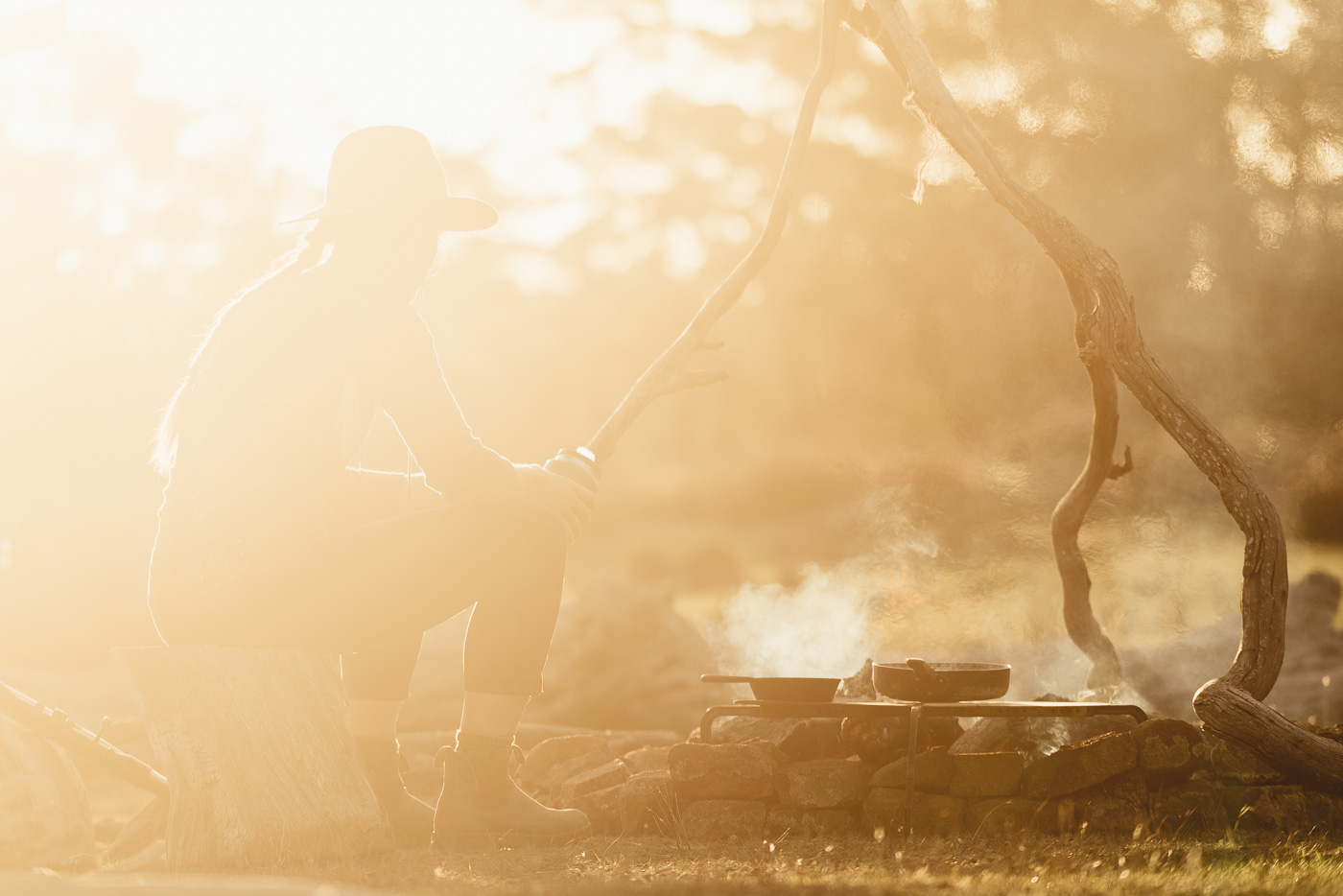 Next we travelled up to Sarah's uncle's farm to go camping back on the mainland of Tasmania. The next video was sourcing food from the land. That evening we looked for Wallaby in the bush, we were pretty eager to shoot one before sundown but sadly that wasn't the case. As darkness grew the wallabies came out and we got a decent sized one. In the diminishing lights we were able to gut and prepare it to have the following evening. I have got to say it's one of the easiest animals to prep too, amazing lean meat. They don't have a lot of fat to them so makes it interesting to cook, Sarah's the person to ask though! I feel like Australia don't make the most of farming wallabies, could be more sustainable.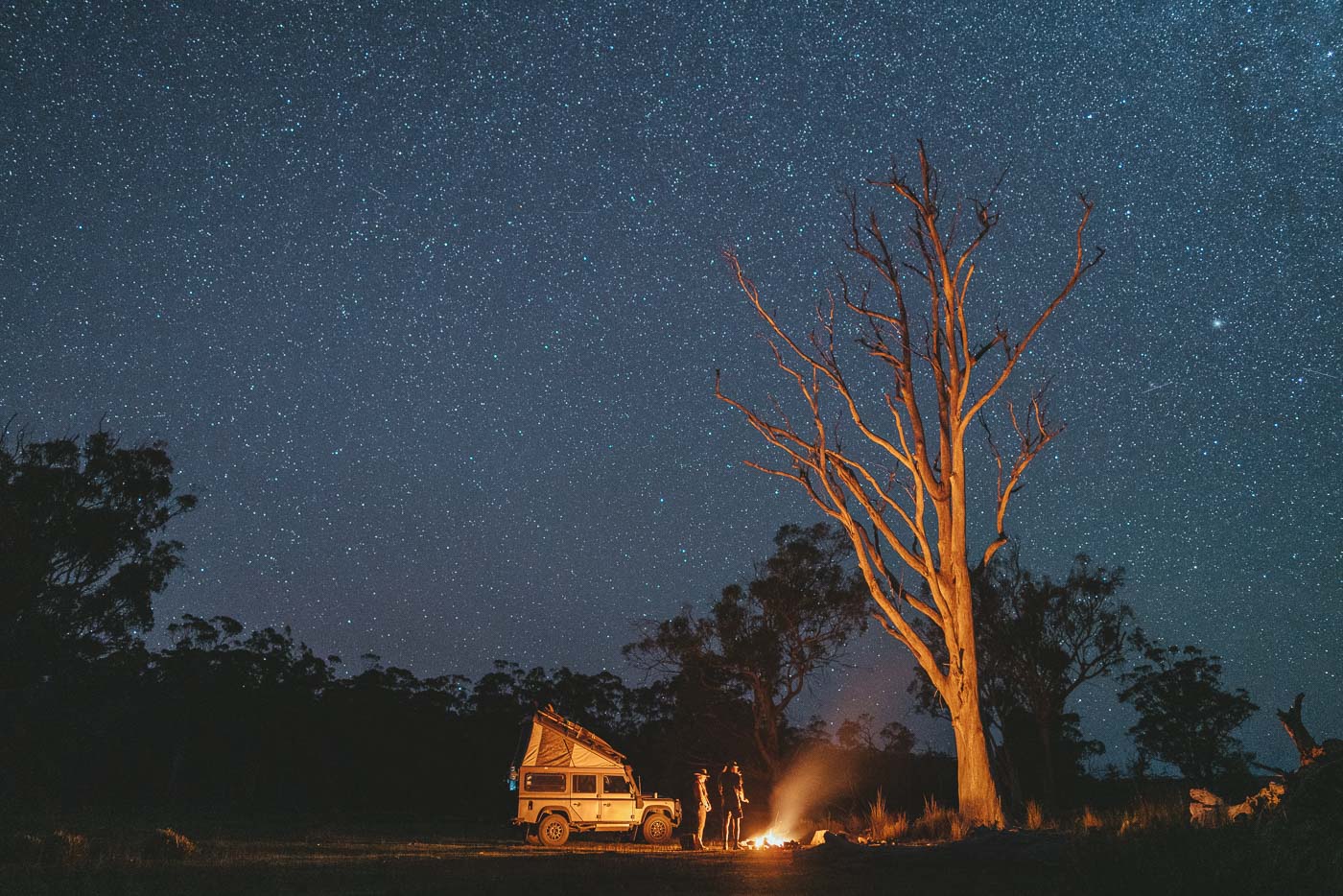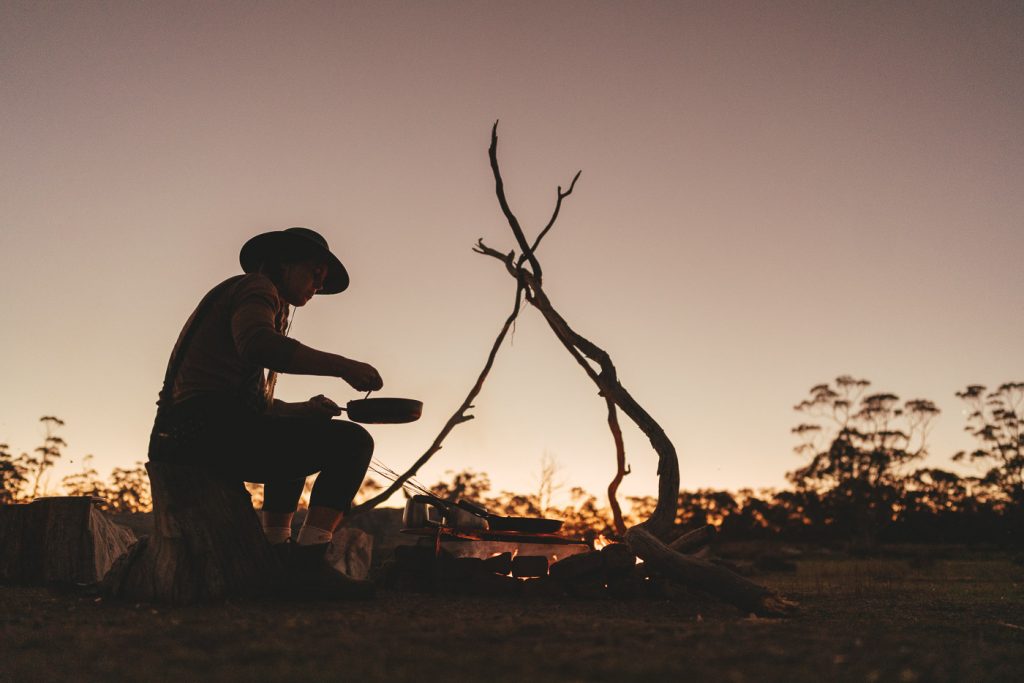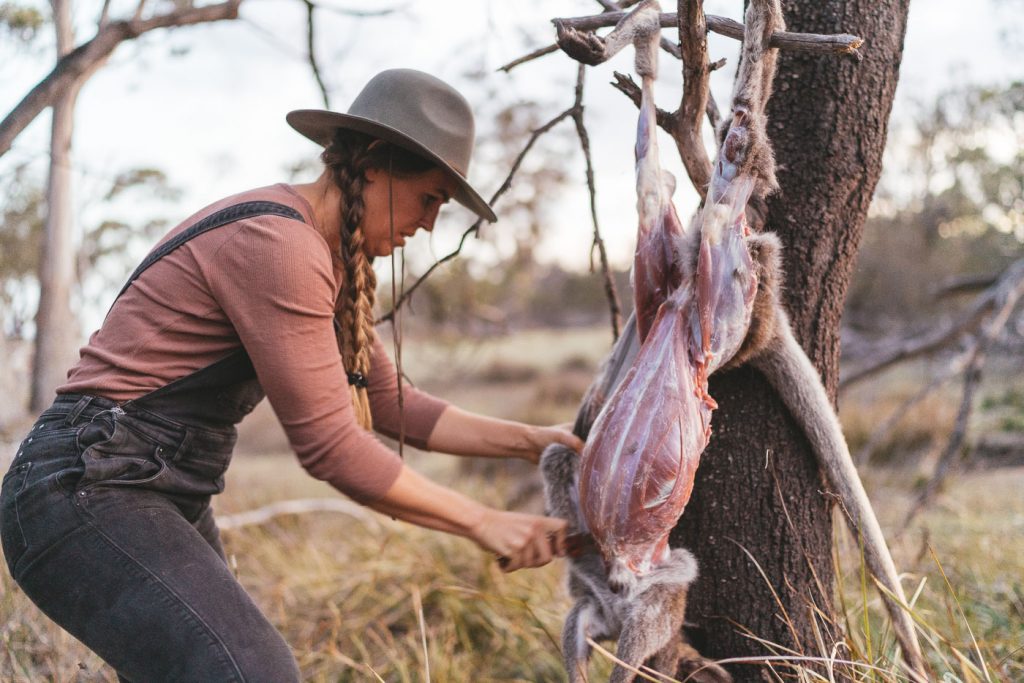 The following morning was a bit of a disaster. Wineglass Bay is probably one of the iconic spots in Tasmania. Prior to coming to Tasmania I didn't want to go to the classic hotspots every tourist goes to but looking at this one it was hard not to miss it. I wanted to capture an image up high overlooking the bay to see the best of it's beauty. Sarah said it only takes half an hour, maybe 20 minutes if you're quick. At the back of the Landy, Sarah was making coffee, I was playing with a Wallaby. This left us 15 minutes to make it up. Ten minutes in and I noticed that sun had already reached the top of the hill as well as all the land behind us. Previous night I googled a local town for the closest sunrise time. Little did I know there's also a same named town in New South Wales which had a huge time difference. Our sunrise summit wasn't exactly a sunrise hike but man it was a laugh.
Missing sunrise wasn't the only thing, the view point wasn't what I had imagined, we were at the wrong spot. All that last minute planning but it was still stunning. The original plan was to watch sunrise then continue down into Wineglass Bay and go for a swim but after seeing my disappointment Sarah suggested we go to the other lookout. We raced back to the car to figure out where the actual lookout track start was. It said an hour and a half to get to the top of the higher lookout, no ridiculous goal but my new aim was to do that in 20 minutes for last remaining morning light. Big warning signs did say that it was a rock scramble. Looked like that 20mins might be 22.5mins, it was a fair old push and realistically it was more closer to an hour. There were times that there wasn't much to hold onto, time I was hoping my epic traction Blundstones weren't going to slide out from underneath. As we near the summit funnily enough the cloud rolled over and the perfect blue colour of the bay went to Grey.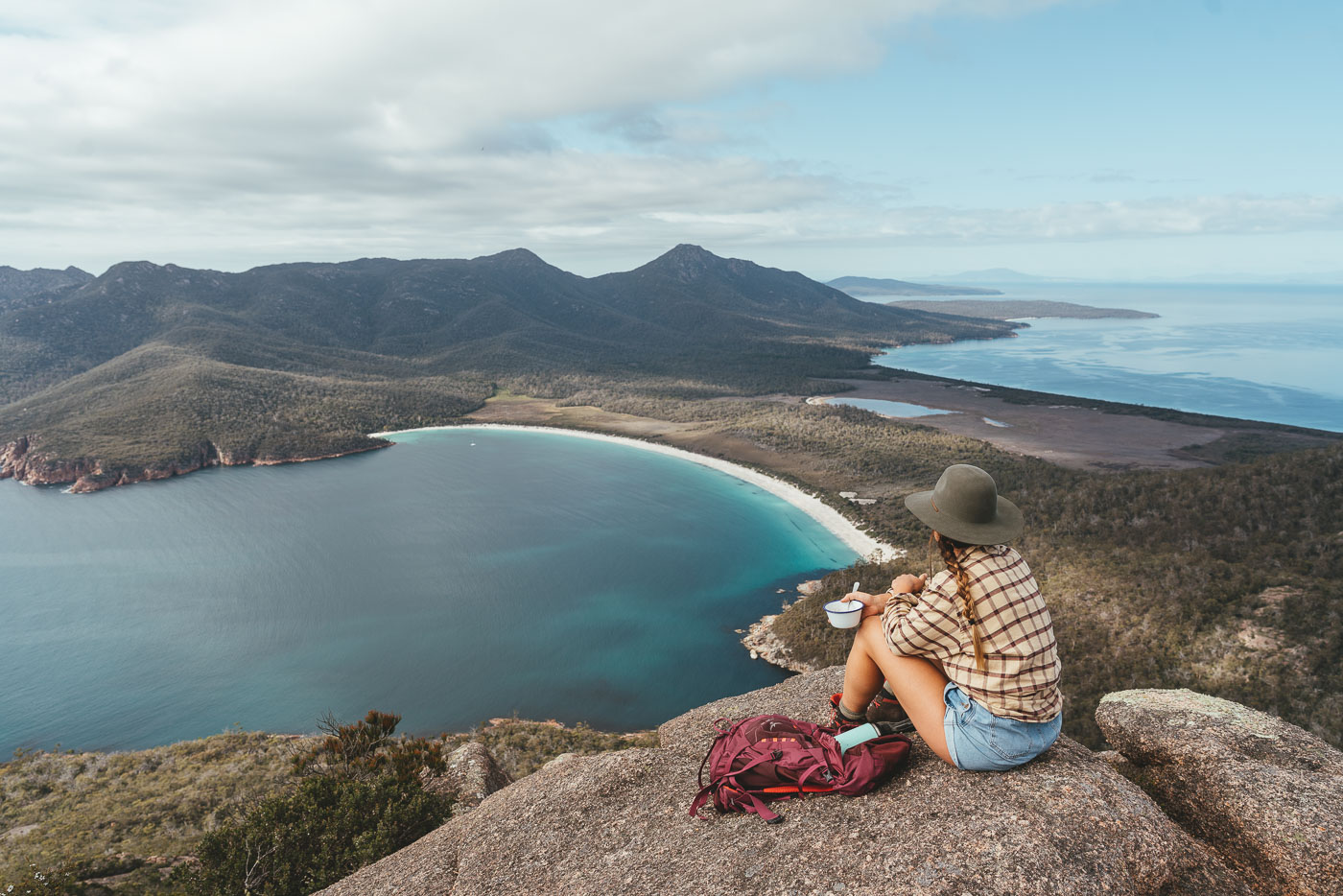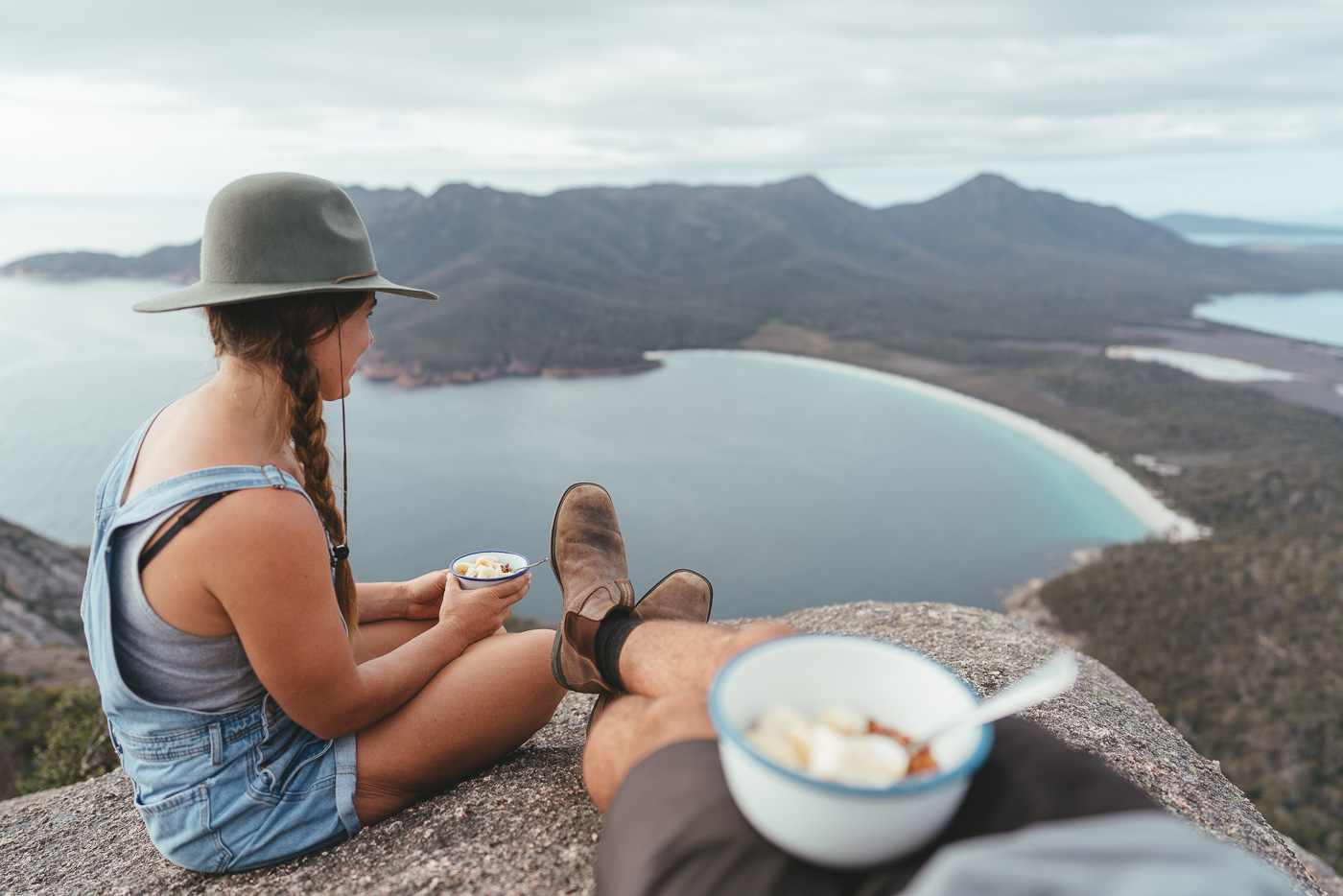 Sarah prepared us breakfast at the top, nice berries and banana on muesli with milk. It was a nice starter for my chips. Sarah wasn't too impressed but she regrettably had some too haha. Cant take me anywhere. With luck the clouds burnt off and sun burst through. Damn I could see why people hiked up to see the view.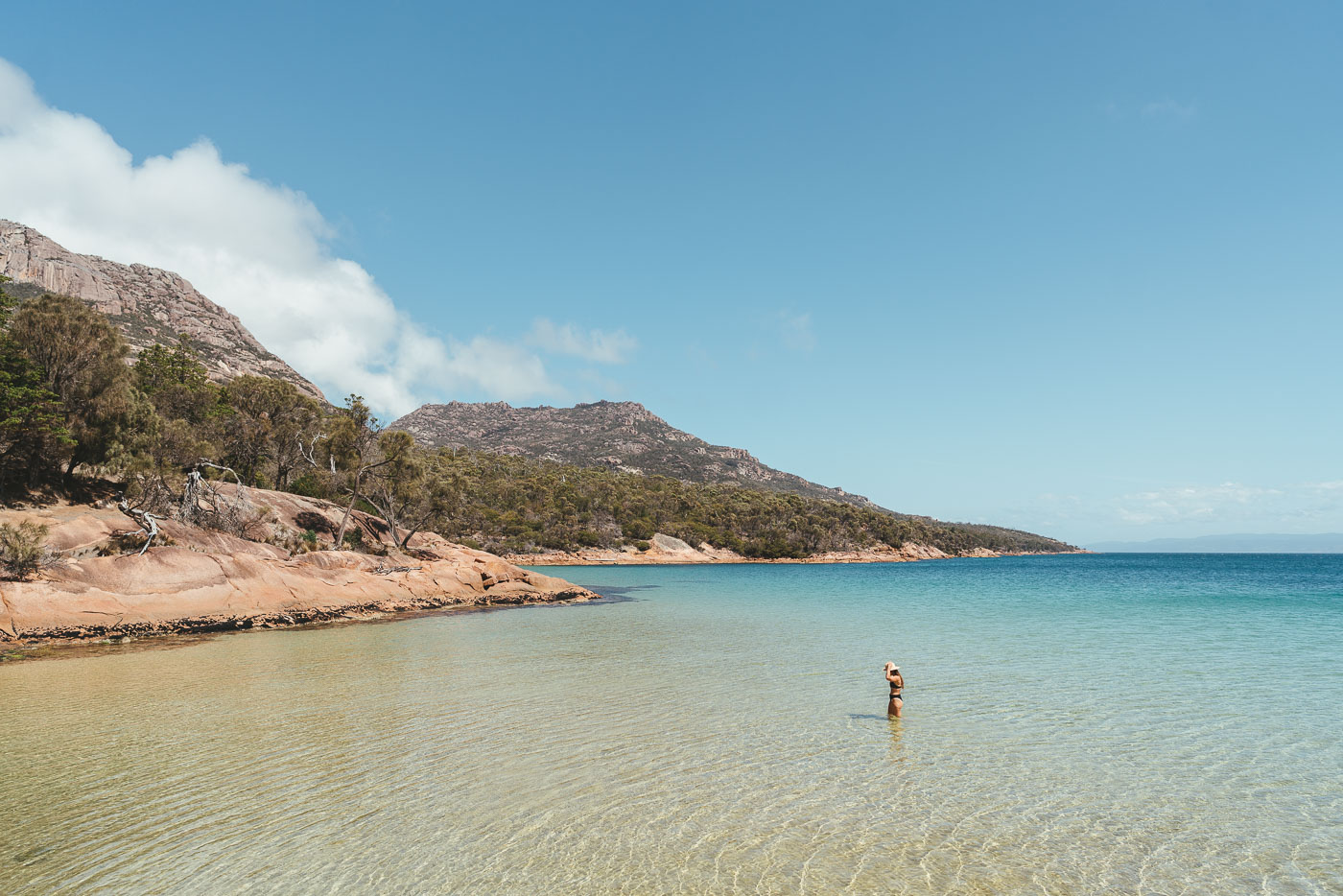 Climbing back down it was very apparent how popular the trail had become. The problem was people would set out at the wrong time… in the hottest part of the day. Very happy with our decision that we weren't suffering in the heat we were back at the truck ready for a swim. We grabbed some snacks and headed to the beach for a swim.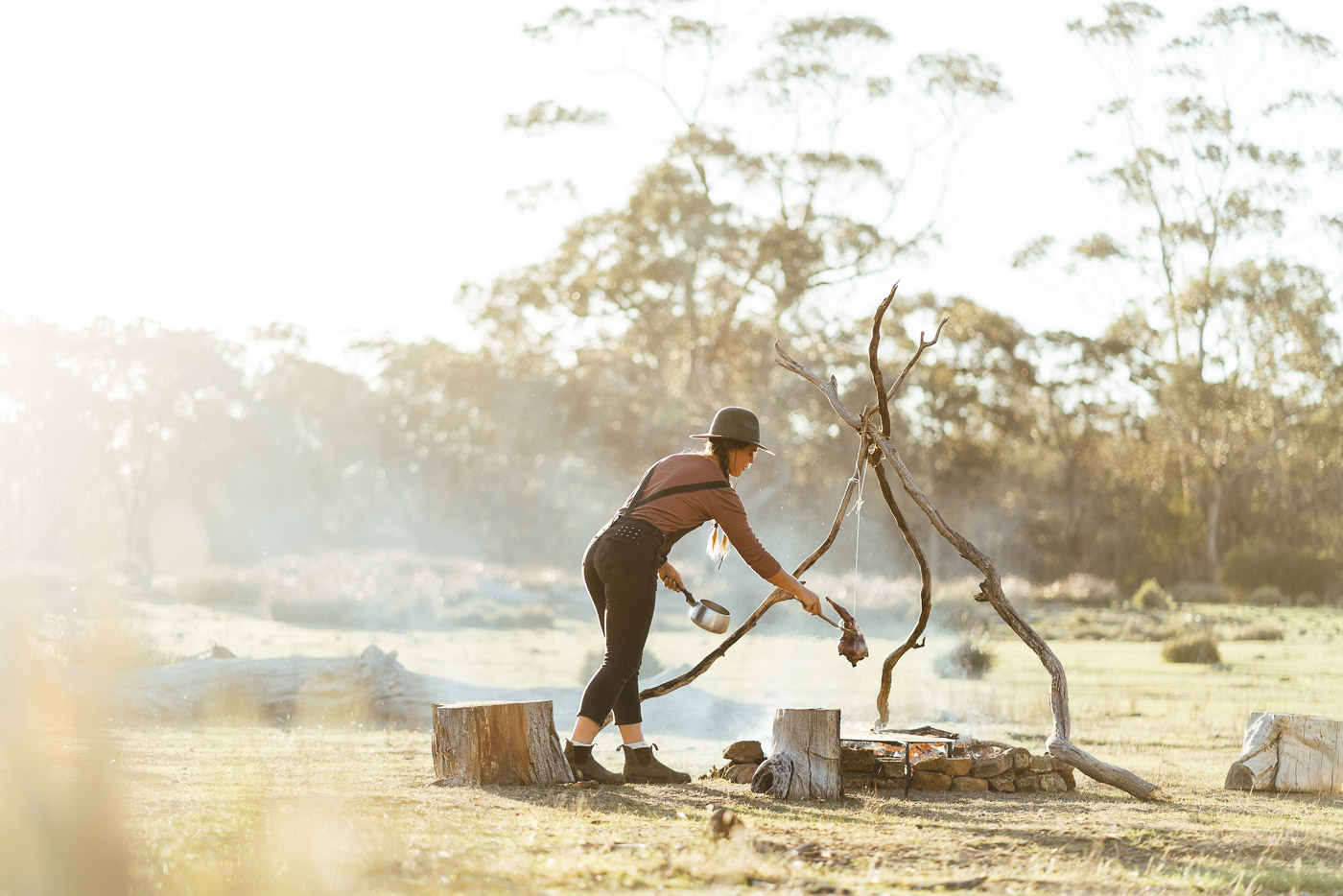 Ending the day back on the farm with a leg of Wallaby cooking over the fire. This is the exact imagery I pictured of capturing with Sarah. Some of my favourite shots of the trip too. The remaining meat we put in the fridge in the back of the Landy to use at a later date.
Again I thought I was going to be able to cover much more Tasmania than I originally thought but no. I was super keen to catch up with another mate of mine Graeme King over on the North side but that didn't happen. The closest I got was Bicheno which only an hour north. After some waves, sunburn, a couple of ice creams each it was time head back to Sarah's Bach.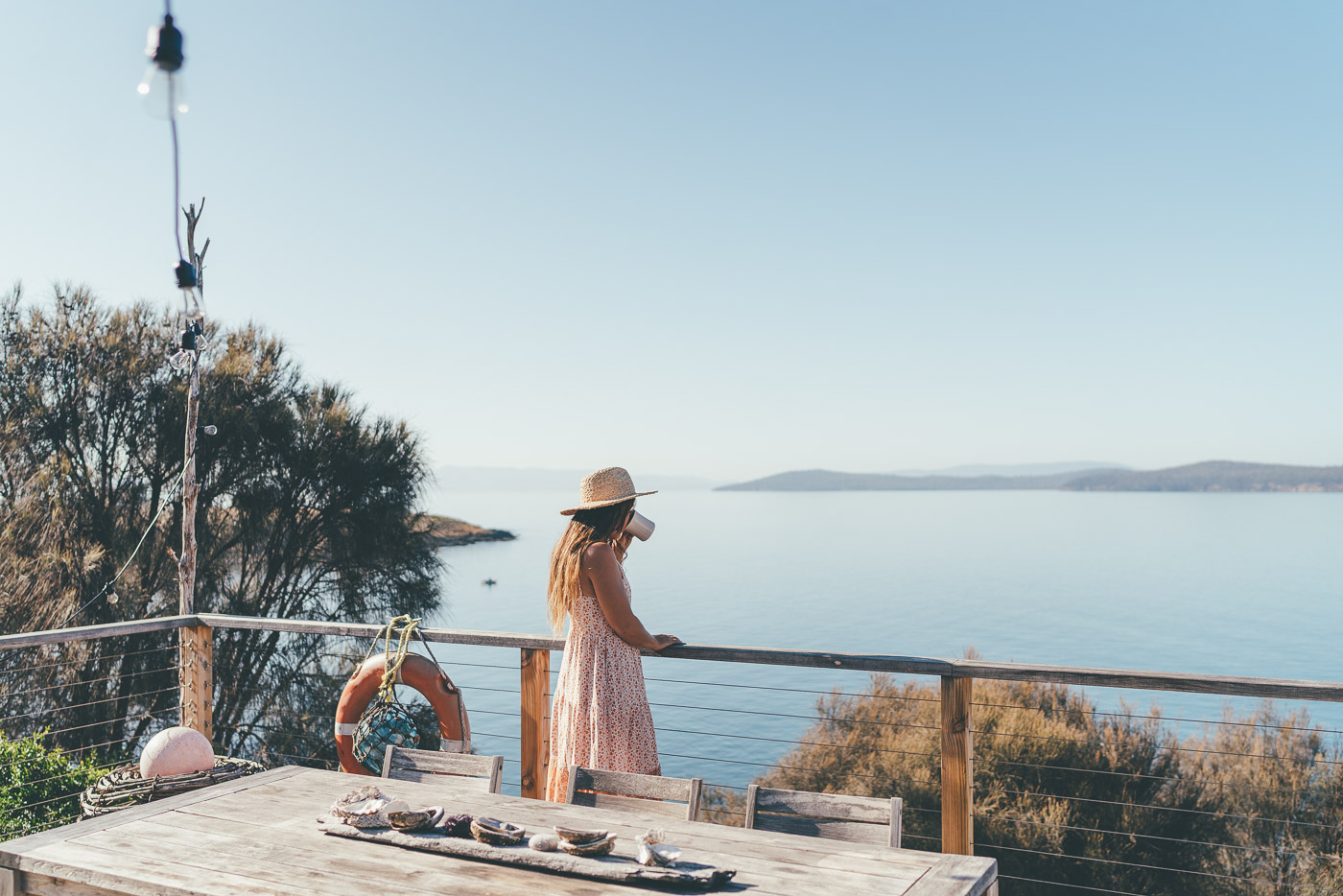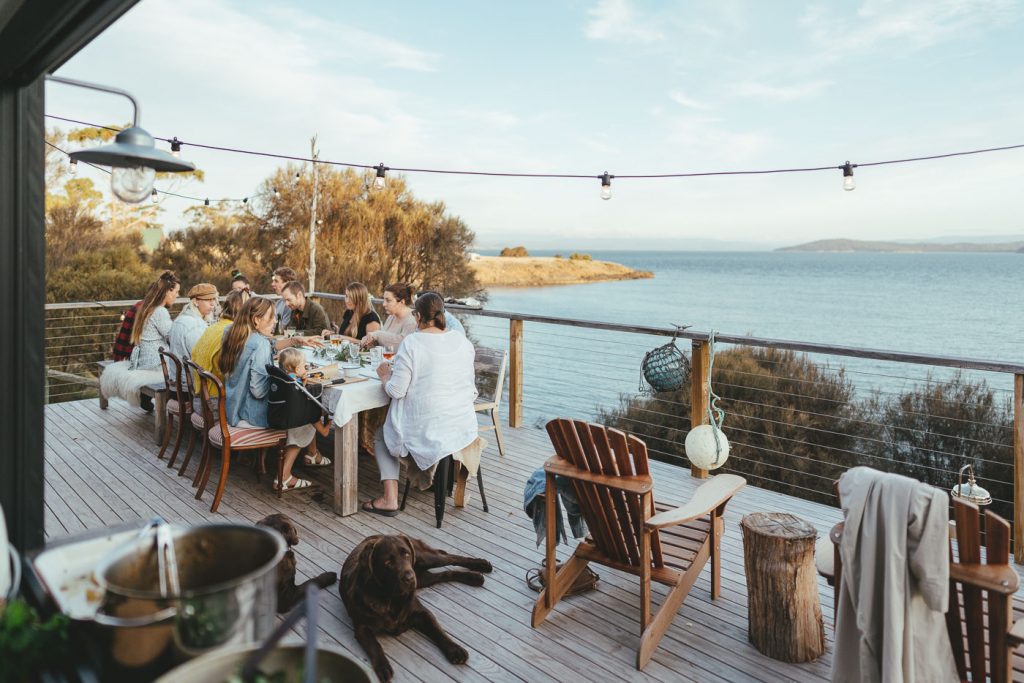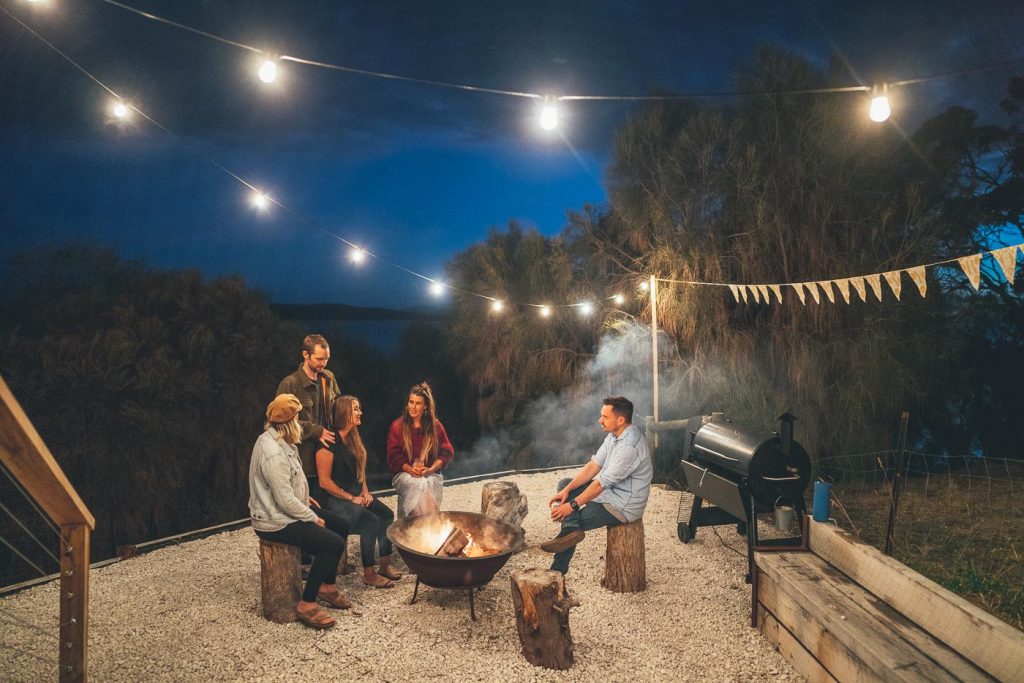 It was nice we had some days off at Sarah's shack at the beach to catch up with emails and reset. It also gave me a good chance to look over the mistakes I did on the videos (audio). Thinking we were back that things might calm down but no one of Sarah's good friends had a birthday party hosted at sarah's, everyone run brought a dish. It was epic, such a good time. No rest for the wicked. Also I wanna get the book, 'a Hard day at the office', one of Sarah's friend Carlo recommended it. Sounded awesome. With the remaining meat from the hunt, Sarah made a beautiful wallaby curry. It was so rich in flavour. Click here for Sarah's wallaby curry recipe.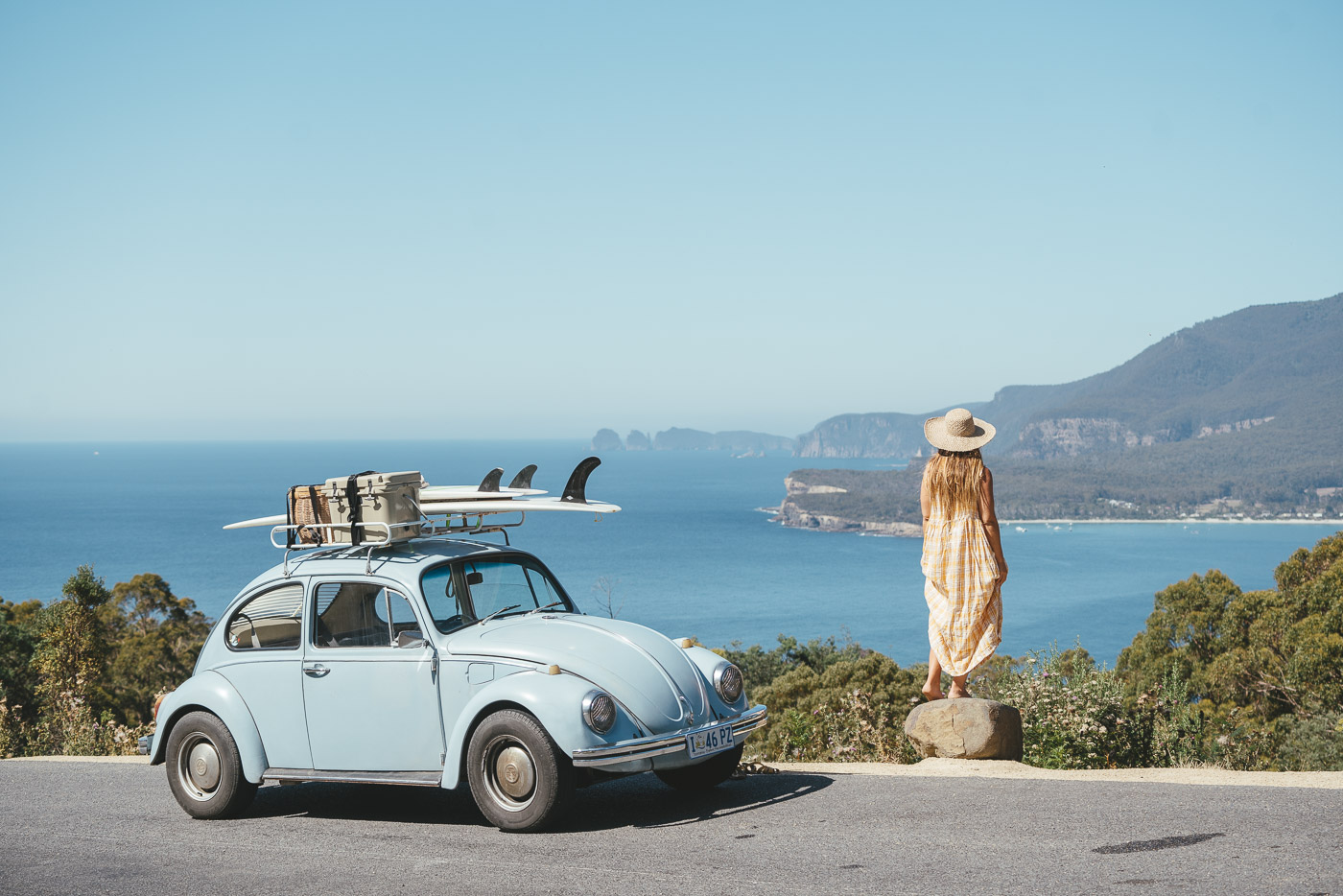 Several years ago I drove part of the Great Ocean Road in an old VW beetle. I'm passionate about things that are old and have character. The beetle is exactly that, the most fun I've ever had behind the wheel. Sarah has my dream set up, an adventure Land Rover and a daily beetle (also a batch at the beach). I'm Pretty excited to take the beetle out with Sarah as she hadn't photographed with it before. Of course we couldn't leave without the boards at home. Driving along the dusty dirt road we soon followed one of Sarah's friends from the other night, Soph. Explored around Eagleneck and it was pretty stunning from forests through to lookouts over the bay and not to forget lunch on the beach. This trip was pretty special and a big thank you to Sarah, allowing me to create some of my favourite imagery with her.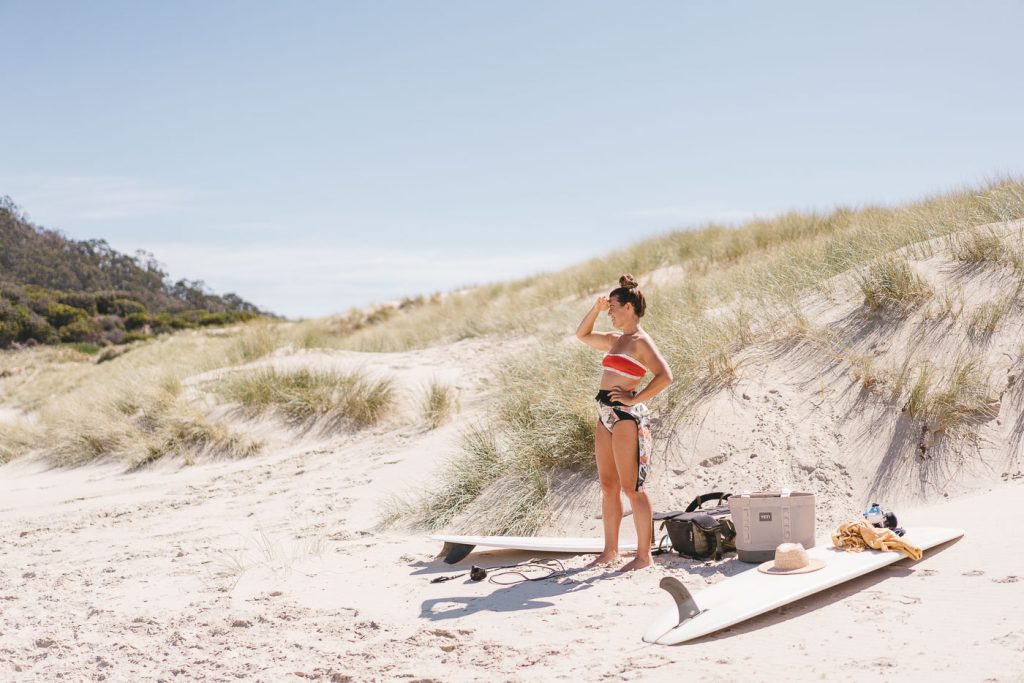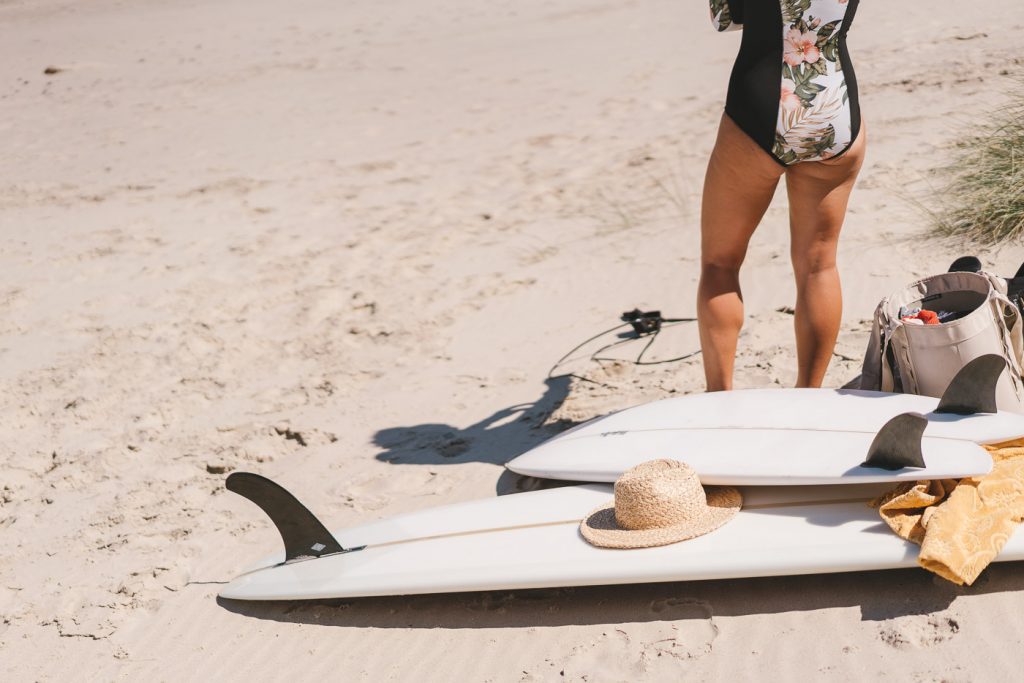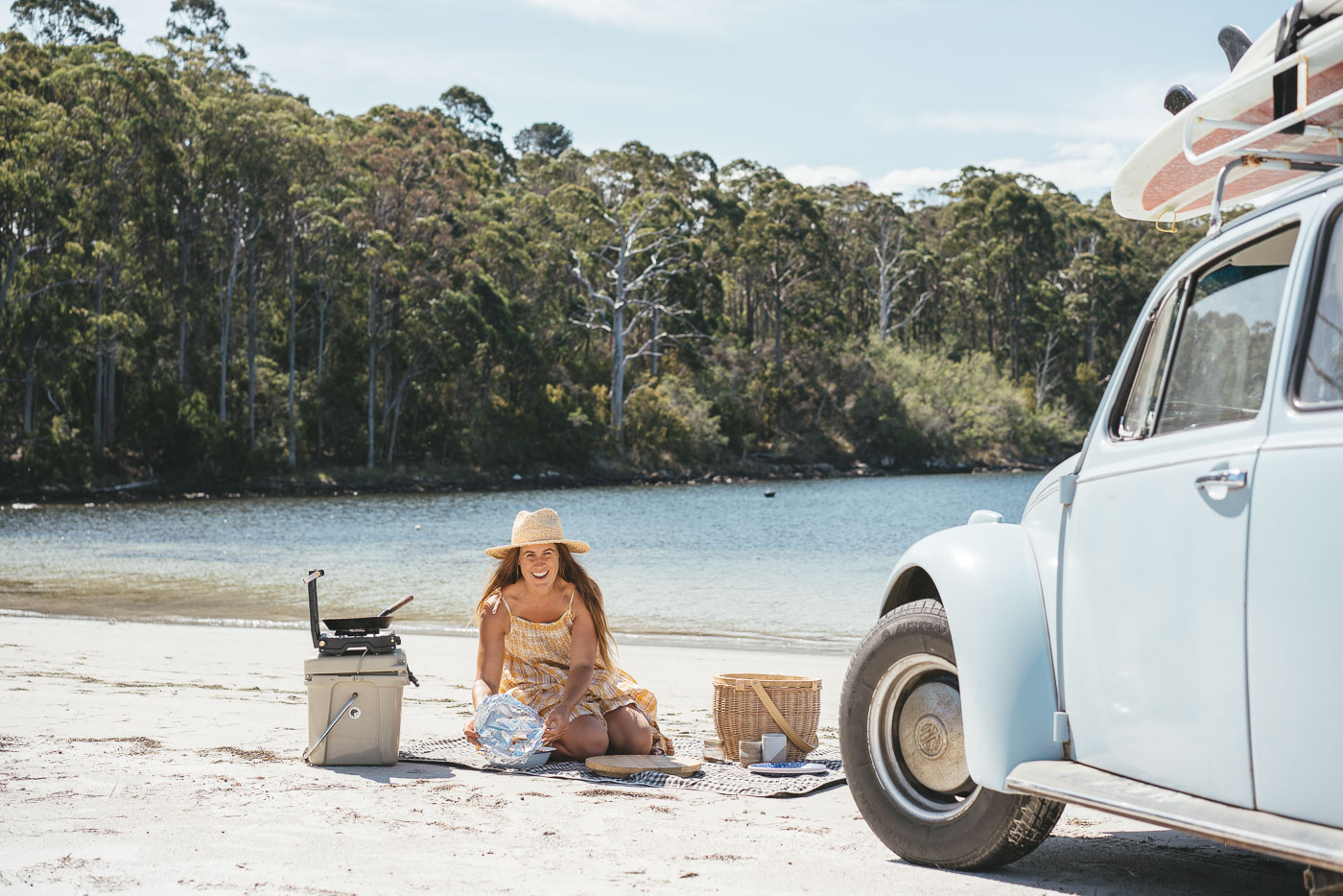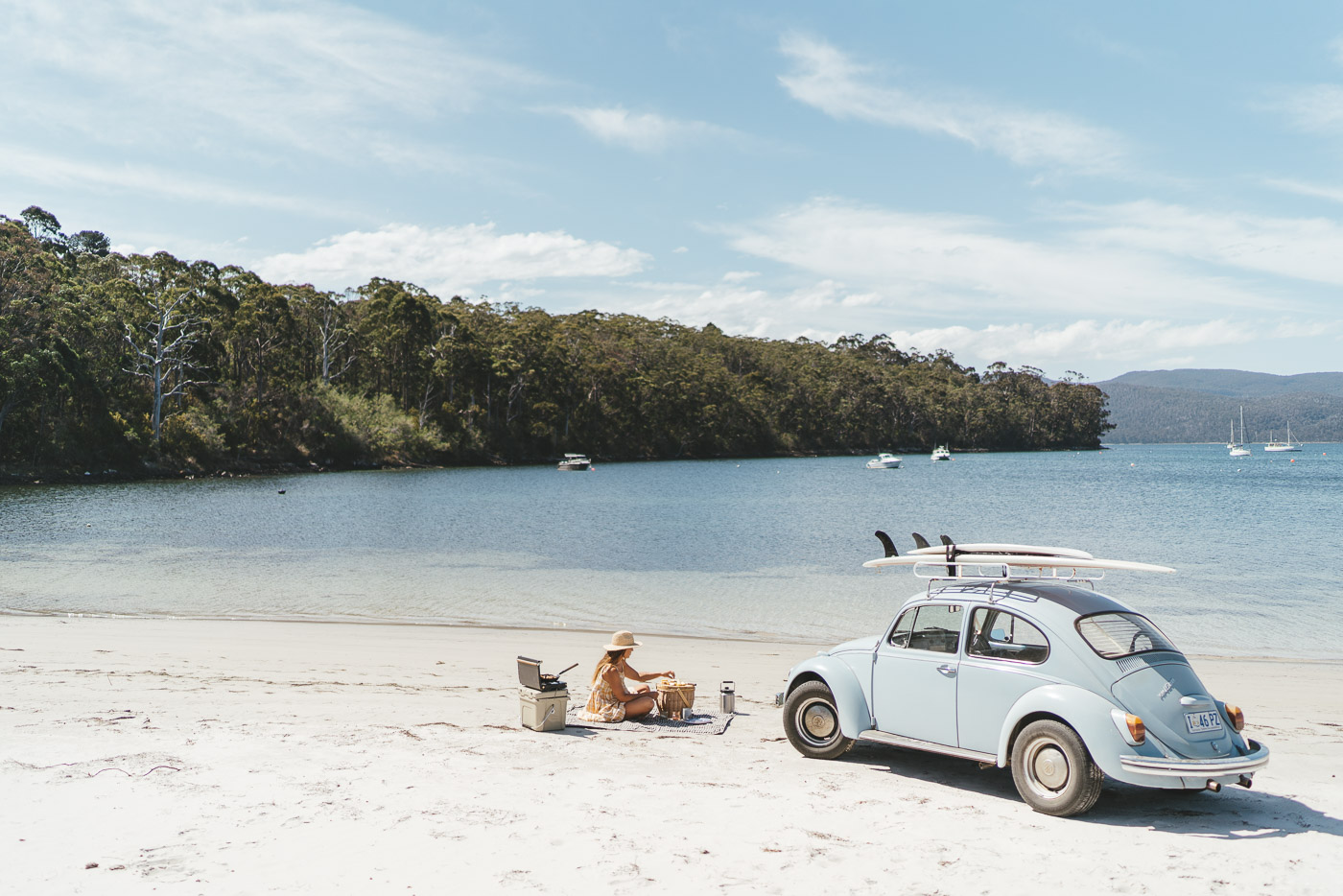 It didn't stop there though, one of the last days Sarah invited me, maybe not invite me, more so told me that I'm helping cater with her on Satellite Island. I didn't have a problem with that, I was excited. Plus I can now say I'm qualified chef, just minus the qualification part but I'll just claim it as it was the meanest food. I was well stoked, I look super professional too. Pretty cool to manage several dishes at once cooking over the fire. Sarah has such a talent and I picked up so much that I can take home to use when cooking at home or outdoors.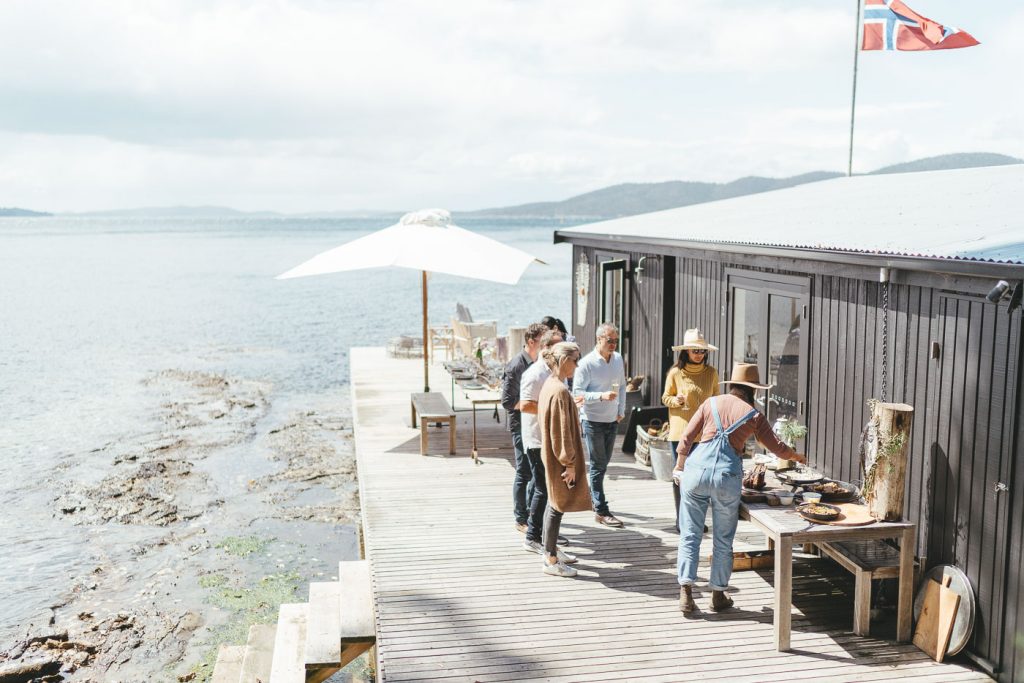 Honestly though a huge HUGE thank you to Sarah for putting up with my shit. Pretty stoked to finally meet and work together. When COVID19 mellows down and New Zealand comes out of lockdown we can hopefully get back to planning another trip.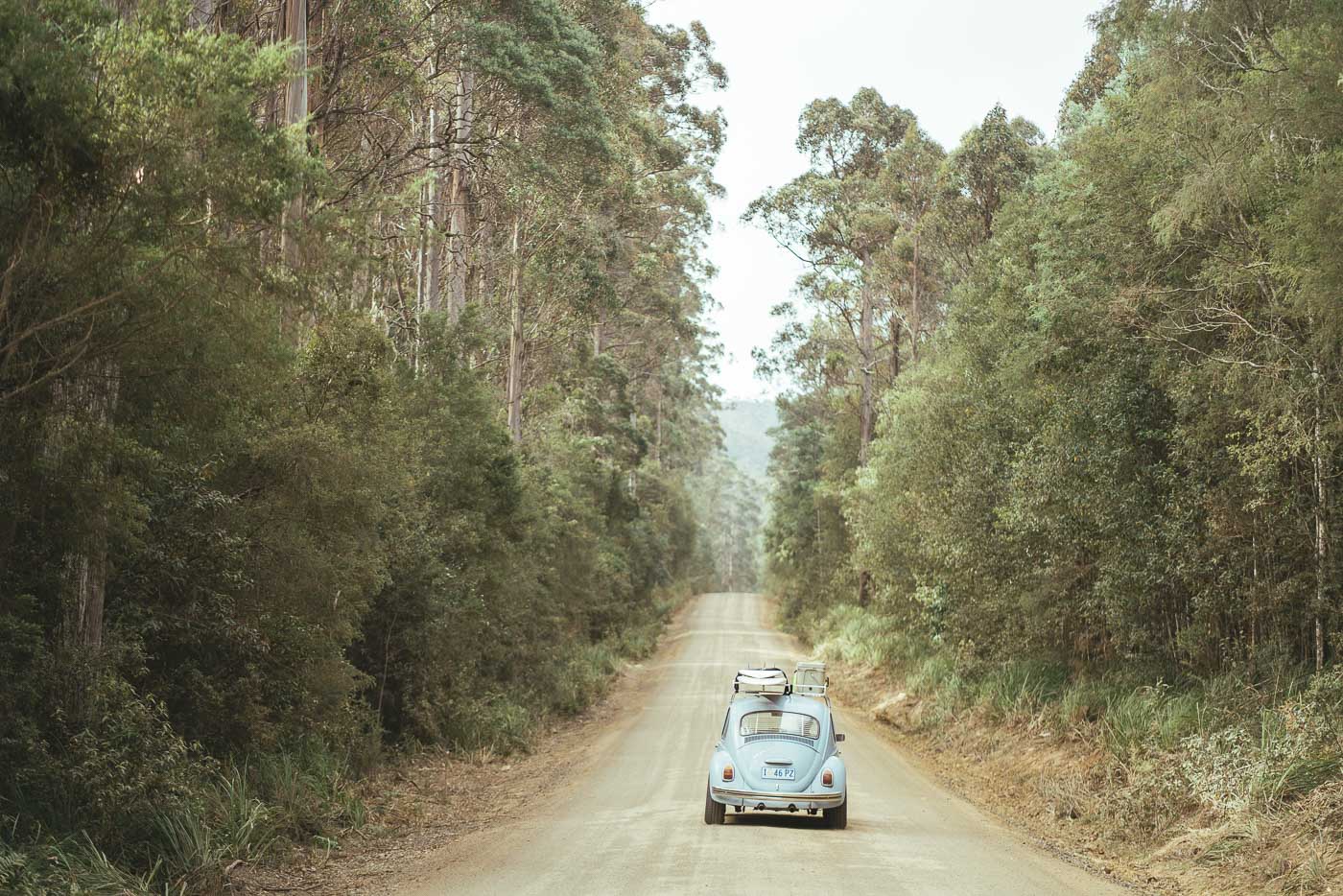 @Stefan_haworth on Instagram